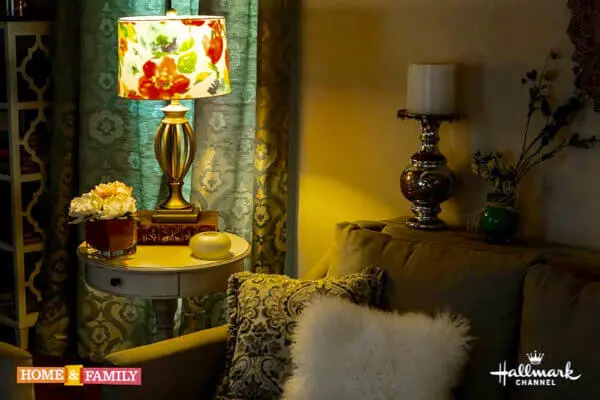 Hurray for Hollywood!
Really?
Sure! Um…y-eah! I guess you can say that HomeJelly's gone all Hollywood 'n stuff.
How did it happen?
Well, I thought, why not keep my promise about risking looking stupid this year and audition for Hallmark Channel's Home and Family show for their DIY star contest?
So, I did.
And…! They chose me as one of their FINALISTS!
What?
And…! I was also invited to do a segment demonstrating how to DIY my "Peek-a-Boo" lamp shades LIVE!
Who me?
And…! Not only did I meet fellow musician, Duff Goldman, who is one of my favorite Food Network Celebs and star of one of my favorite Food Network shows, Ace of Cakes…
I also made one of my lamp shades with Academy Award winner, Geena Davis!!!
…who, btw is a totally bad-ass crafter!
Pinch. me. Pinch. me. again.
And…! I even got to play in a game called "Leading Lady Soundbites" with the Home and Family cast AND Geena!
Thank you everyone at the Home & Family show! You all were so wonderful, professional and kindly helpful!
CONTEST UPDATE:
It looks like I didn't make it to the "Final 5", but, with your help, there's always a chance I could be asked back on as an "Expert DIYer" in the future!
(Like Oprah says, "If you never ask, they'll never answer." Or was that me?)
1. Click into this Home & Family Facebook page and tell them you'd like to see SKAIE KNOX on their show again (or whatever floats your boat!).
OR
2. Visit any of their social media channels and tell them what you think!
Twitter: @HomeAndFamilyTV
Instagram: @HomeAndFamilyTV
Thank you all! I believe I'm achieving my goal of thoroughly looking STUPID this year!!!
'Cause, like Aunt GG says…
Annnnnnnd…I'm officially done with all this shameless self-promotion! On to more DIY…!