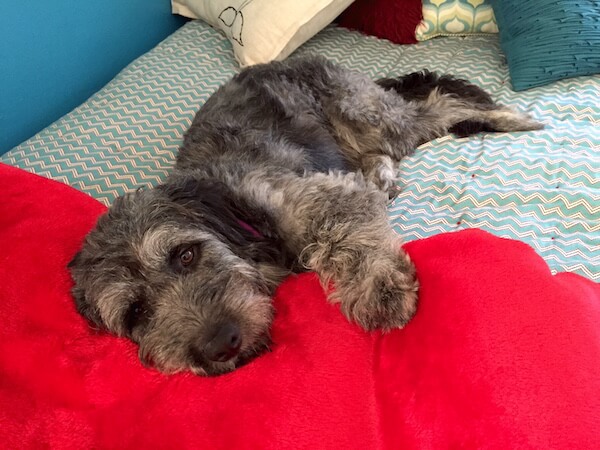 As I write, it's Krinkles' first "pupiversary"! Yes, folks! Krinkles has now been our fur baby for exactly 365 days!
Yappy Aniversary, Krinkles!
So, in honor of our four-legged kid, I thought I'd post another fabulous HomeAdvisor home hack video I hosted, demonstrating three doggone easy ways to remove pet hair from our homes.
'Cause, as we all know, we may love our pets, but their hair all over the place is "fur the dogs"!
With that, Krinkles just ran out of the room to hide out of total embarrassment of his dorky mom.
And…he has officially entered adolescence.
HACK #1: Use a Dryer Sheet.
Dryer sheets are great for gathering hair in clumps. Then, you can easily grab it and discard in the trash.
HACK #2: Try Tape.
Wrap Scotch tape around your hand several times, then wipe over the pet hair to stick, collect, then throw away. Don't forget to use the back-of-your-hand tape as well!
HACK #3: Swipe a Damp Cloth Across the Upholstery.
Fold, then roll a small, damp towel, then swipe it across the surface where your pet has so lovingly left his/her fur. It'll wipe up in seconds!