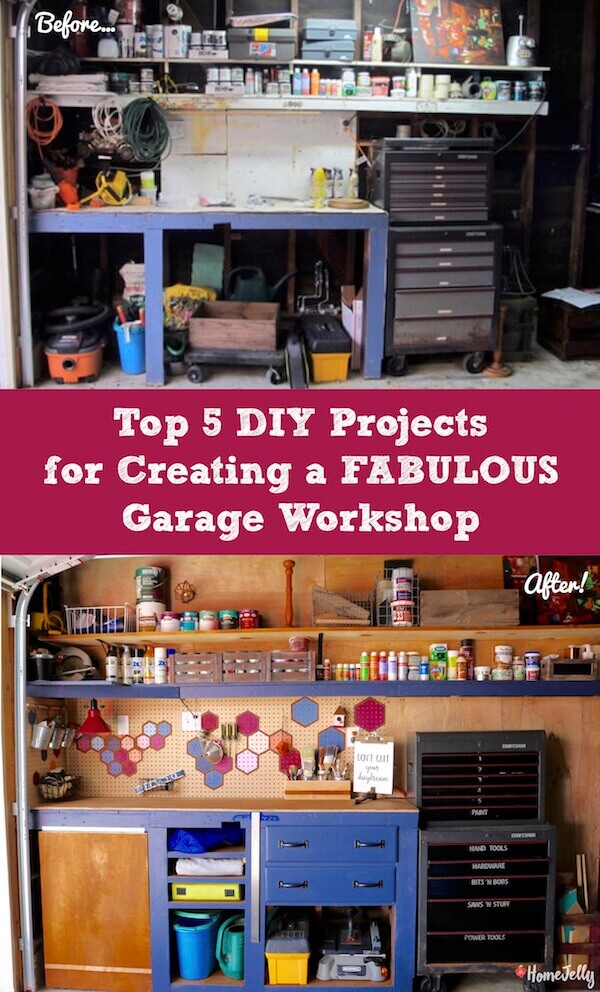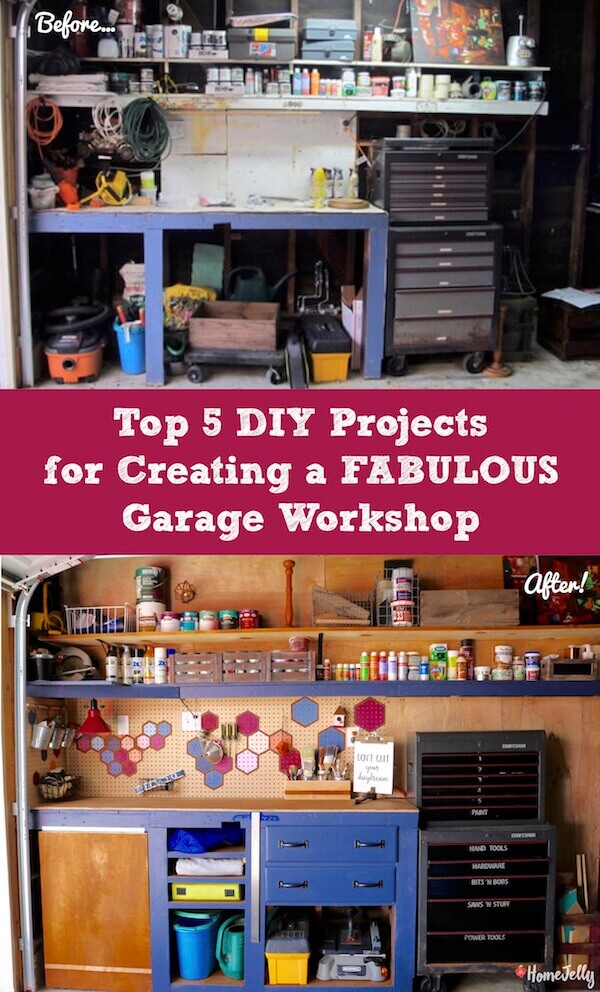 At first I thought I was totally kidding to myself.
Am I crazy to think I can actually do all this…by myself?
The answer? YES, I am.
Fortunately, I was raised by a farm girl mom who used to trudge through below zero, Minnesota snow storms to milk cows every morning and taught me everything I know.
Crazy comes with the do-it-yourself territory.
Yep. My garage workshop makeover to-do list was quite loooooong, but the five main projects I completed were absolutely necessary and ended with fabulous, totally-worth-it results.
So, with that said, I thought I'd lay them out here for ya, so that maybe, if you wanna get a little cray-cray yourself, you'll at least have a DIY map to get there.
No GPS or milking cows required.
Top 5 Garage Makeover DIY Projects:
#5. Electrical:
Before even getting started, you should always be sure your electrical system in your garage workshop is up to code, safely wired and accessible, especially for homes like mine that probably haven't seen an electrician for over 40 to 50 years.
A simple inspection is all you need! I love today's sponsor, HomeAdvisor, because they're free to use, easy to navigate, and they offer several vetted and well-reviewed professionals that will give you quotes on just about any home service you require.
#4. Lighting:
There's nothing like a workshop light to help brighten your space and make fine-detailing so much safer and easier to see. And, besides its functionality, it can also be decorative and cool.
I found my vintage work light at a local shop in Hermosa Beach called, Stars Antique Market (man, I love that place!). And, thanks to Modern Masters, I also added an industrial-inspired, rust-painted cage over a solo lightbulb light.
Search around for unique AND practical lighting options to really perk up your workshop and up its functionality.
#3. Storage:
God knows this is a major issue with us DIYers. There never seems to be enough places to keep our tools, paints and what-nots. Building covered and open storage is easier than one might think. See how I built a drawer system and easy-to-access shelving and how I winged it!
Easy tip! If you're not quite up for building storage for your workshop, refurbish and repurpose an old dresser and book shelf…they'll easily do the trick!
#2. Tabletop Workspace
This is probably going to be the most used area in your workshop. From painting, to drilling, cutting and attaching, your tabletop needs to be practical and plentiful.
I replaced an ugly, old, ripped linoleum floor tabletop with a beautiful, solid 1/4″ piece of plywood. I added a fun detail that was consistent with my garage gym cabinet, as well as this foldaway table I installed.
Yes! I installed a mounted foldaway table!
This adds 6-7 square feet to my workspace as well as offers a lower elevation surface to complete different types of tasks. The bonus? It now also hides my shop vac. My new workbench-top-foldaway table is just so awesome on so many levels (link coming soon)!
(Dorky pun intended.)
#1.Organization 'n Inspiration:
So, let's just say this list is more like a "wish list" for you right now. If there's just one thing you can do, it's get organized!
It's simple as A, B, C, (but, in reverse order):
C is for CLEAN Your Space!
Seriously, this is the #1 best way to creating a fabulous workshop. Get your hands grimy and go through all your crap. Yes. Every. Piece. Then, throw out stuff that you KNOW you'll never use.
For me, I discovered I'd been storing five monkey wrenches. FIVE!
Well, not anymore! But, I did do something cool with one of them.
B is for BOXES 'n BINS
Cute wooden and wire boxes and bins not only group items you typically need at one time and keep small items neat and tidy, they're also an awesome way to style your open shelving!
A is for AWESOME Peg Board (Yeah, yeah…this acronym was a bit of a stretch.)
Tools, brushes, supplies, even decorative tchotchkes can be hung and made easily accessed via pegboards. They're super inexpensive and really easy to install. Plus, you can get all kinds of creative and even paint a custom design to inspire you all the live long day!
And here is the rest of the Reveal!
This garage workshop makeover series is sponsored by:
The opinions are completely my own based on my experience. I wouldn't have it any other way.