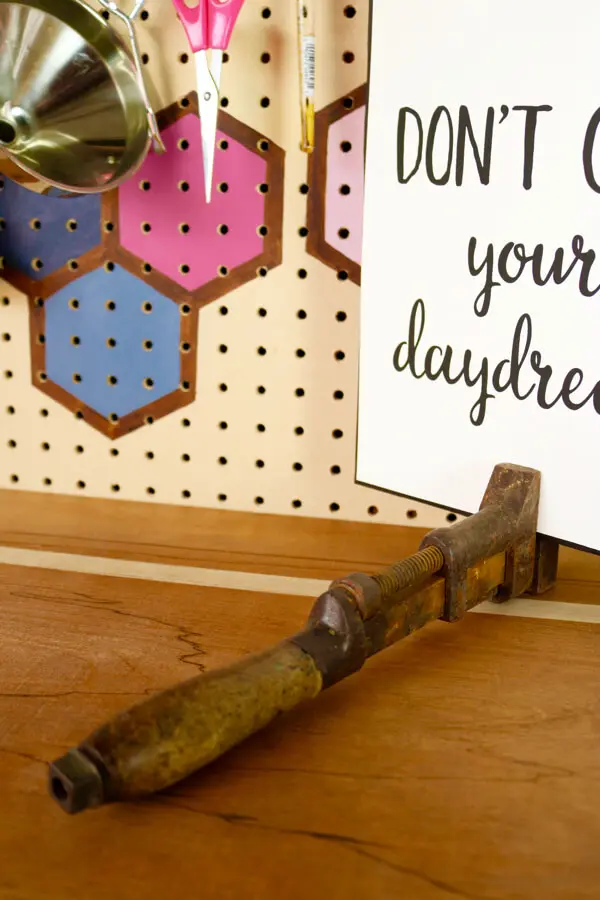 Mmmmmm…mistakes can be so awesome sometimes. You can ask most musicians and songwriters and they'll back me up on this.
I was juuuust about to throw out a bunch of tools I never used while making over my old Craftsman toolbox, when that hamster on the wheel inside my head got really going again.
This vintage monkey wrench is so amazing-looking! There's GOT to be a way to reuse this bad-boy!
And, so I did.
Its just-wide-and-heavy-enough "jaw" was perfect for holding a new graphic print I'd just received that would add the finishing and inspiring touch to my garage workshop makeover. It would also add character and interest to just about any space in your home.
Bananas, right?
Supplies:
• vintage monkey wrench
• paper cutter
• pencil 'n straight edge
• print or photo
• clip board
Instructions:
1. Cut your print to the size of your clipboard. Be sure to use a paper cutter for the cleanest of lines.
2. Cut your mat to peek out from behind your print. You may want to use a Sharpie to color the edges once you've cut it to size.
3. Sand rust and dirt from inside your monkey wrench's jaw to prevent staining your print.
4. Attach print to clipboard, then place it inside the monkey wrench and clamp closed.
That's it!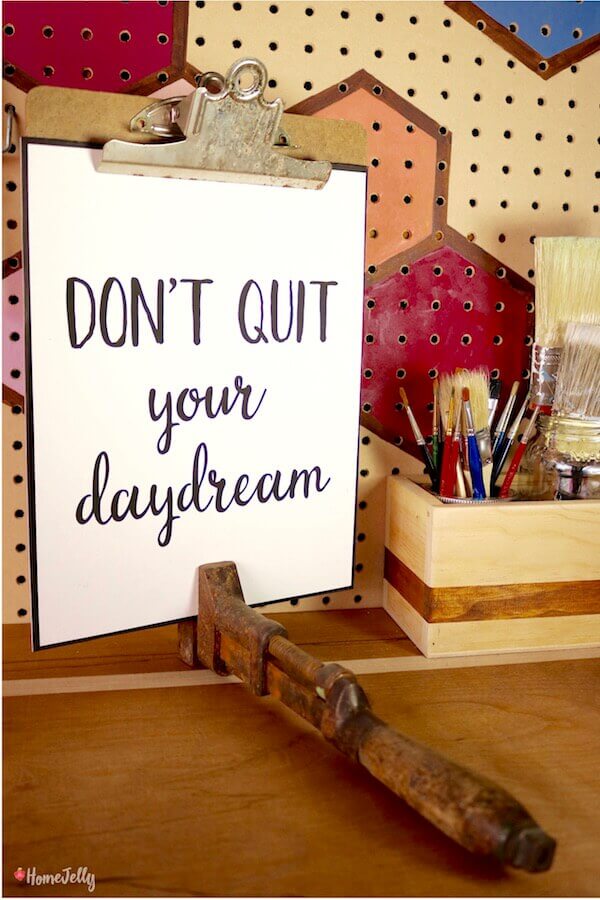 Except…
I just LOVE my new print designed by Pratima Aravabhoomi…
pronounced pruh-TEE-muh AH-ruh-VAH-BHOO-mee – say that 3 times fast!
…of Craft Street Designs. She was a former Apple consultant who now designs meaningful quotes into stylishly simple wall art. With my awesome print above, she cleverly AND figuratively hit the nail on the head!
Cuz I ain't quit'n MY DIY day dream!!!
Before I wrap things up today, I thought I'd include a few of my favorite prints below.
Remember, you can do all kinds of things with prints – decoupage onto wood, uniquely frame them, (like placing it inside a repurposed dresser drawer picture frame), or place inside a glass vase with lights for a super-cool way to showcase one of these unique quotes.
Now, jump on over to Pratima's design site and order a quoted print for your space!
All photos (except where indicated) by Skaie Knox, HomeJelly
The "Don't Quit Your Daydream" print was donated by Craft Street Designs in exchange for inclusion in this post. All opinions are my own and I only accept products that I absolutely love. I wouldn't have it any other way.