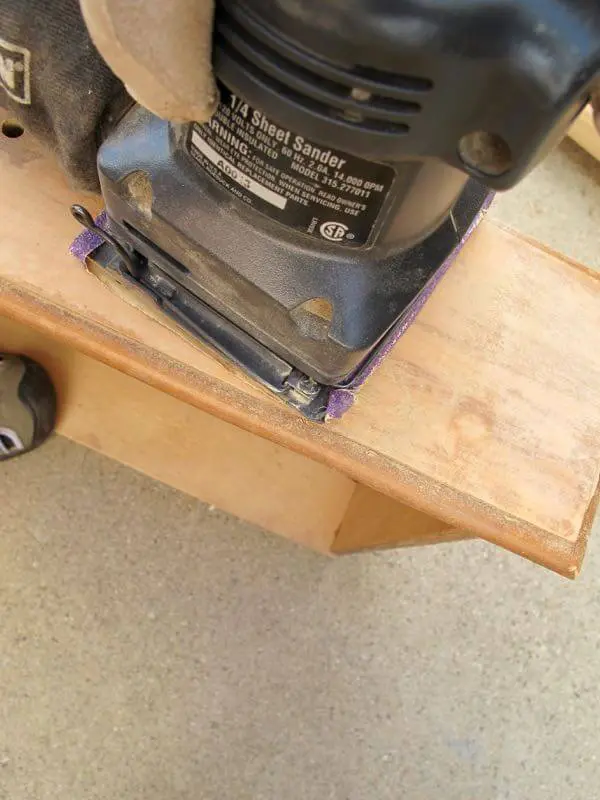 This year, we decided to turn our once garage start-up office into a home gym. Funny thing is, this created a storage issue (weights, elastic bands, towels, etc.). Stumbling over gear does not further fitness, just a possible rolled ankle (uh, no thank you).
As DIY fate would have it, I just happened across a dresser that someone left out on their lawn to be trashed (NO…err…YES!). It was a decent, all wood piece, but some of the drawers were missing and some didn't close right…perfect!
See Also: Kid's Dresser Gets All Dressed Up
I invite you now to lace up your cross trainers and join me as I go through an upcycling workout that's simple and something you do to suit your needs. I was fortunate to be sent HomeRight's Finish Max paint sprayer and their fabulous spray shelter (ooh, my newest best DIY friend!) to make the job easier. I'll give you the skinny (too much?) on how to customized a dresser into a home gym cabinet (or whatever you'd like to store) to make it fit and fab!
Don't forget to stretch first!
Upcycling Supplies:
• electric hand sander and sanding block
• sand paper (medium – P60 and fine – P120)
• hand saw or jig saw
• 1/4″ scrap wood (for shelf inserts)
• wood screws
• painter's tape
• paint brushes
• paint – semi-gloss, satin, or matte (whichever you'd like)
• HomeRight Finish Max paint sprayer
• Briwax or wood stain (whichever you'd like to use)
Optional features:
• hooks
• new hardware
• carpet
Gym Cabinet How-To:
1. Remove drawers, hardware and backing, then sand.
2. Remove drawer tracks, then, using a hand saw or jig saw, cut dresser wood between drawers to open it up for shelving.
3. Measure the area for 1/4″ scrap piece shelf.
4. Insert and nail or screw in 1/4″ scrap wood for shelving and back. You can also reuse the removed tracks to use for shelf support. Note: I included a tilted shelf for hand weights which added a step of screwing the wood piece to the back of the dresser – it was super easy!
5. Prep cabinet for painting, tape plastic over top and back, then tape feet.
6. Spray paint exterior and drawer fronts, allow to dry. I first set up my new HomeRight Spray Shelter and absolutely loved it…so did Krinkles.
7. Remove plastic and finish top, feet, shelves and inside backing with polyurethane stain or Briwax. Choose any color of Briwax that melts your butter! Extra: add custom touches like taping off to create stripe of unfinished wood or add color with paint. You can even add a decoupaged stripe, lettering, pattern or design using wrapping paper, wallpaper, or fabric.
8. Finish: attach new or existing hardware, carpet, hooks, towel bar or anything to suit your needs. I added carpet to the tilted shelf for better traction and protection of wood and customized the middle top drawer to mount the power amp. Kinda gives it a cool, rock'n look, don'tcha think?
The Upcycled Home Gym Cabinet is Complete!
All photography by Skaie Knox, HomeJelly
This post was sponsored by HomeRight. The opinions are completely my own based on my experience.