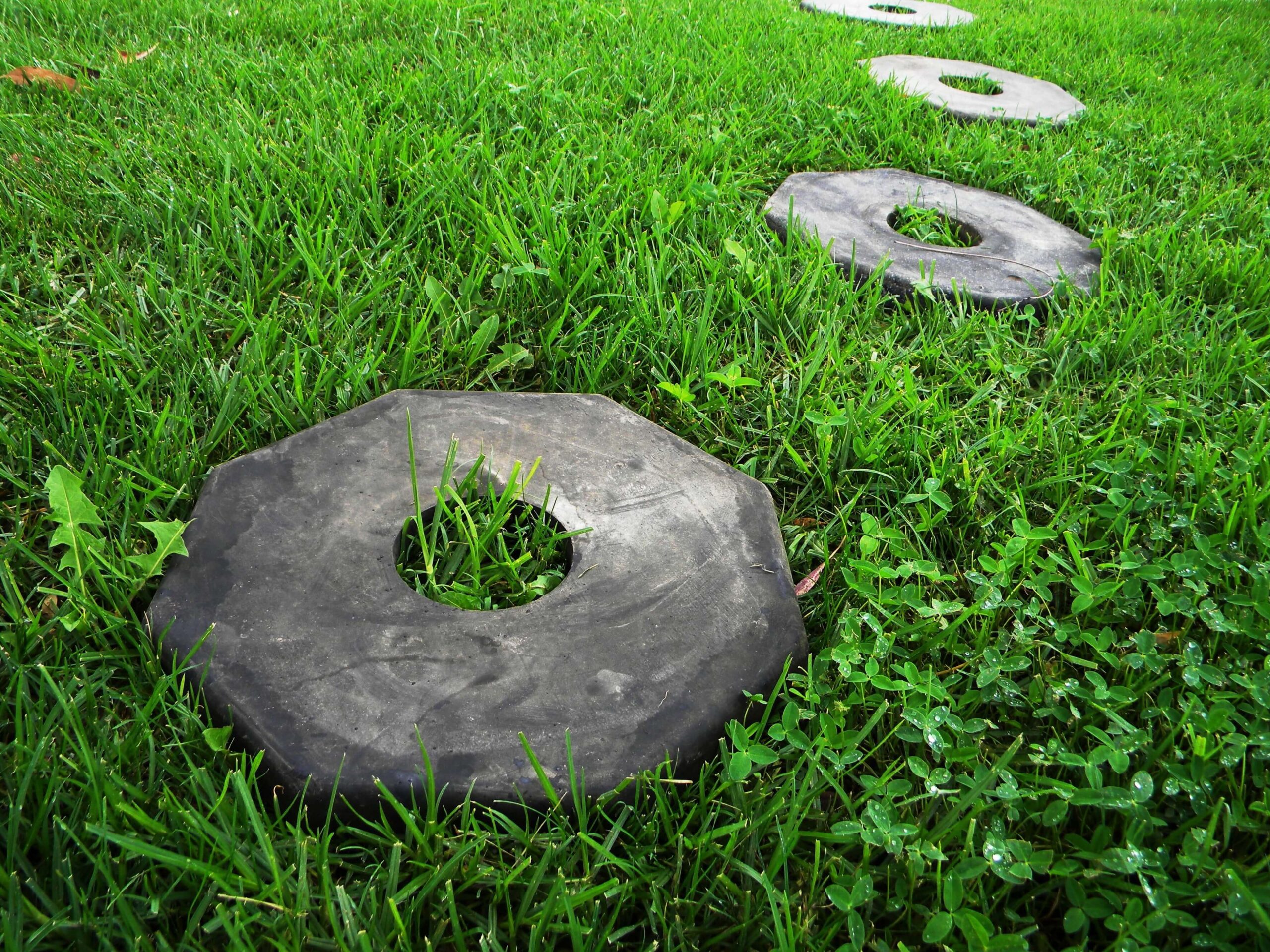 If you commute to work, you probably and unfortunately see traffic tubes every day. They're similar to traffic cones but lankier, and their purpose is to caution drivers about nearby road workers and to adjust one's speed accordingly. So what happens to traffic tubes when they've completed their noble duty? Nothing. If a traffic tube enters a landfill it will sit there for more than 10,000 years, according to the Environmental Protection Agency (Preliminary Review of the Degradation of Plastic and Rubber Materials. EPA. 2006). This gives a whole new meaning to 'Expect Delays', which is why Making Purchases with a RePurpose can truly make a difference for the environment and our future.
Used traffic tubes can often be purchased directly from construction companies. Recently, the Riverside ReStore received a large donation of them and started pondering "RePurposes". We were thrilled with the green possibilities: stepping stones and tree "huggers"!
Stepping Stones
RePurposing the Base:
Remove the black rubber base from the orange tube by slipping it over the top. Now you have two RePurposable items: the base and the tube.
Simply wash each base and align them in your garden walkway as easy, inexpensive, and eco-savvy stepping stones.
Note: The black rubber base is manufactured from recycled tires and is surprisingly sturdy, usually weighing between 12 and 18 pounds each. Their open space in the center, where the tube was situated originally, lends itself to become a decorative feature. You can either allow grass to naturally grow through (see photos above) or fill it in with ornamental gravel or river rock. Black, white, and grey gravel is a stylish option which provides additional traction and a weatherproof solution for icy climates.
Tree Hugger
The orange traffic tube can also serve as a "RePurposed" tree hugger, literally. Tree protectors, also known as tree guards or tree tubes, are probably more common on the East Coast, and are used to protect the bark and trunk of fruit trees and saplings from rodents, rabbits and deer that might chew on the trunk or scratch themselves on the bark, damaging the fragile tree. Perhaps 'Buck Rub' isn't plaguing you in Los Angeles, but rodents, opossums, and the neighbor's cat might be. Tree protectors are a gardener's friend whether you live in a forest or a concrete jungle.
RePurposing the Tube:
Drill or punch holes liberally throughout the middle (two vertical feet at the center) of the tube in order for tree to breath. Note: Traffic tubes are quite similar to products manufactured specifically as tree tubes with one alteration, ventilation holes.

You will also need a support stake. Master gardeners recommend that you bury a support stake between 14 and 16 inches below the soil, 1.5 inches away from the tree, and on the north side of the tree to prevent the stake from blocking sunlight.
Slice the traffic tube vertically, using a saw or box knife, and place it over the newly sprouted sapling or wrap it around the existing trunk.
Align the tree tube with the support stake (some store-bought stakes with pre-drilled holes) and drill matching holes along the tube's sawed open seam.
Lace a zip-tie (or a more eco-friendly product) through each set of holes to secure the tube to the support stake.
Congratulations! You've just "RePurposed" would-be industrial waste into garden beautification and protection equipment.
All photos courtesy of:
Riverside ReStore's Chief RePurposer, Kristii Mac is always looking for creative and eco-savvy ways to bring new life to products that would otherwise be destined for a landfill.
For more information on the "Make Purchases with a RePurpose" program, please email [email protected]. A special thanks to our Director of Retail Operations, Cindy Tyrolt for her awesome stepping stone idea.