It might as well be a party with all the fun we're having now! Storage, both open and closed, is exactly what I needed in my workshop. I love having easy access to tools and materials I need, but SO appreciate the ability to cram necessary-but-unsightly bits and bobs away into a deep dark drawer.
Yes! I did it!
How? Hm.
Well, all I can say is, making my very own drawer and open shelving system, pretty much from scratch, was like when I was 9 years old and saw a gymnast during a world championship meet perform a handstand on a balance beam. She then lowered herself by rolling onto her stomach, finishing in a "V" sit.
I can do that!
Which is exactly what I did the next day in practice. My coach "Dee" looked on as I told her I wanted to show her my new trick. When I successfully finished this new feat, I glanced over and saw her eyes practically popping out of her head!
"Where did you learn to do THAT?!?"
My nonchalant reply?
"I saw it on TV."
Boom.
With that same bravado, (naive as it may have been) and some fabulous help from today's sponsor, HomeRight's Finish Max Paint Sprayer, I thought I'd create and finish a drawer and shelving system for my new garage workshop. Why not?
So, without further ado…here's what I did.
Stupid, right?
Step 1: I built the drawer and open shelving system. (Click in for all the "wing'n-it" details!)
Step 2: Remove drawers, hardware and sand all surfaces.
Step 3: Grab your trusty HomeRight Finish Max Sprayer and paint like a pro! Apply 2-3 coats for a super-smooth finish, then allow to dry for at least 3 hours or overnight.
See Also: How to Use the Rapid Clean for the Finish Max Sprayer (VIDEO)
Voila!
I added the same hardware and paint color as my upcycled gym cabinet made from a trash'd dresser drawer to create a pulled-together garage workshop/gym space. Waddaya think?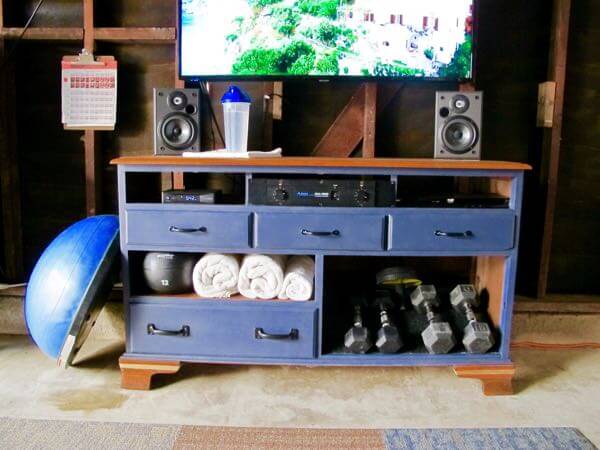 Now check out the FULL workshop makeover reveal!
This post was sponsored by

The opinions are completely my own based on my experience.