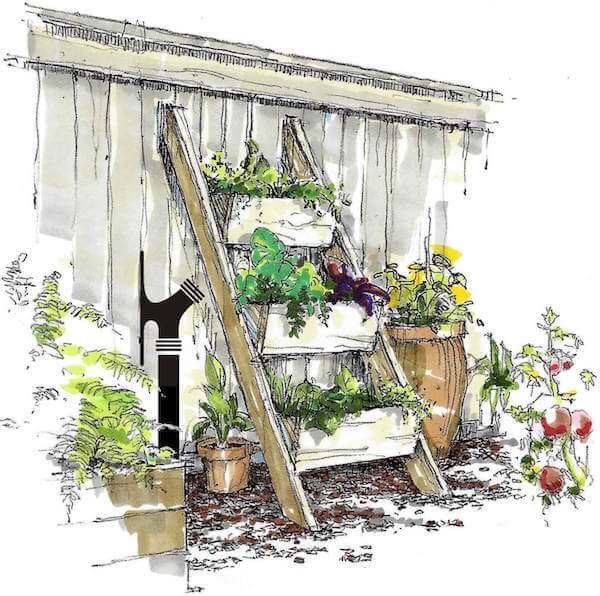 Have you noticed, that every great once in a while, something so simple, yet so handy comes along? An idea that leaves you asking, "Why didn't I think of that?"
Well, the Water Wigot is just that thing. It's my garden tool version of a perfect pop song. Easy enough to learn on the first listen, and memorable to want to hear it again and again.
So, what's a Water Wigot, and why would my garden spigot love it?
It's a compact, efficient spigot attachment that allows you to easily:
• extend the reach of your garden watering.
• place your spigot wherever you need it thanks to the Water Wigot's "on/off" switch.
…in other words, the Water Wigot makes your watering as easy as turning on a light switch! Here's how it works:
(Hoses and hose containers NOT included.)
To further illustrate how you (and your spigot) can benefit from this garden gadget, here are 5 ways I'd personally love to utilize it in my own home:
1. Potting Bench:
So often when I'm propagating, transplanting or potting my favorite flowers and greens, I'm in need of water to do so. I love how I can now DIY-install a Water Wigot right onto my potting bench to easily have water available whenever I need it.
2. Watering my Pups:
Whether Krinkles, Bear-Bear, Matt and I have finished a long walk to the beach, or the boys have just ended a long doggie-play session in the back yard, it's great to have their water bowls located and easily filled without having to carry them all the way around to the back of the house.
3. Hen House:
For urban or rural farmers who raise hens, y'all know how great it is to have access to water. Luckily, I have access to a Minnesota farmer…my mom, Lois, who was in charge of their dairy farm's chicken coup.
See Also: Hens Housed in Million Dollar Digs
According to mom, surprisingly, chickens consume quite a lot of water for being such small birds – a 5 quart waterer can provide enough water for 10 hens for a day. Additionally, she advises changing out the water every few days or so, if you have a larger container or fewer chickens. "Leaving the water stagnant can possibly lead to the chickens getting sick due to bacteria build-up in stagnant water."
4. Vertical Gardens:
This spring I'm planning to repurpose dresser drawers into a vertical garden, which will be located behind our garage that sits in the middle of our property. With no built-in spigot in sight, I'll now be able to extend the reach of the one behind our house to easily accommodate this new watering location. Sweet peas!
5. Gardening For Elderly or Physically Challenged:
As the customizable adage goes, "You can take the girl outta the farm, but you can't take the farm outta the girl!" Yep, my 87 year old mom still loves gardening and enjoys helping me with mine whenever she visits. She's able to keep my ferns and patio petunias perky with a simple switch!
Additionally, for the "green-thumbed" disabled, caring for their greens can be designed just for their needs.
To Purchase:
Water Wigot, price: $14.95 – Buy Now!
This post was sponsored by Water Wigot.
Water Wigot has compensated me for my time and this blog post. All opinions and positions expressed here are my own.