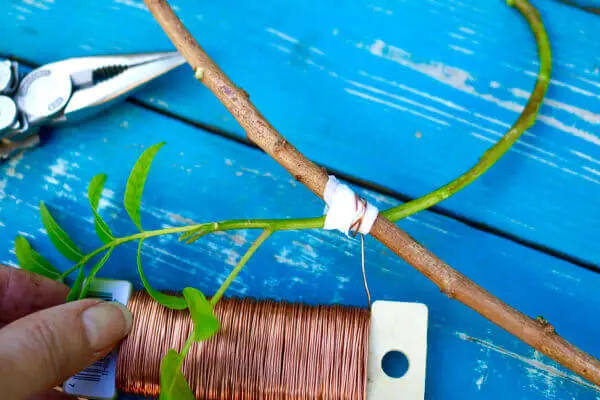 If you're looking for something beautiful to don your doorsteps this spring, look no further than outside your window. Yes, Mom Nature is THE designer and a perfect resource for today's DIY door decor project.
I also took inspiration from my gal pal, re-use everything designer, Shannon Quimby's "Dream" wall decoration. I thought I'd show y'all my version with this fun spring is in "Bloom" door sign, along with some fun adornments that you can alter and tweak to make your own!
Supplies:
• branches – be sure they're fresh and bendable (even green!)
• pruners (I use the Fiskars PowerGear2 Pruners)
• wire snips/needle nose pliers or scissors
• floral wire
Optional:
• dried and/or wooden flowers
• mini birds (I found the flowers and birds at Michaels)
• twine, embroidery thread, beads, and/or ribbon for hanging
Instructions:
1. Snip about 8-10 branches at varying lengths. I cut mine from about 8″ to 24″ long.
2. Remove most of the leaves. If you'd like, you can keep a few to show what kind of branches you used.
3. Bend then wrap 'n lash floral wire to secure shape of letters. Snip then squeeze ends down with tip of needle nose pliers. Note: in the photo below, I had originally used floral tape. I later discovered that using ONLY wire is a much stronger way to lash the branches together (aka: *live 'n learn*)
4. Connect letters by repeating step 3. Again, you can leave out the floral tape.
6. Add embellishments by repeating step 3 . For glue gun nuts, feel free to use one. I just challenged myself to do this project w/o any adhesives. (*Yeah, I did.*)
7. To hang, tie twine, ribbon, or embroidery thread around two of the letters (I quadrupled mine and added beads…fancy schmancy!). Done!
All photography by Skaie Knox, HomeJelly