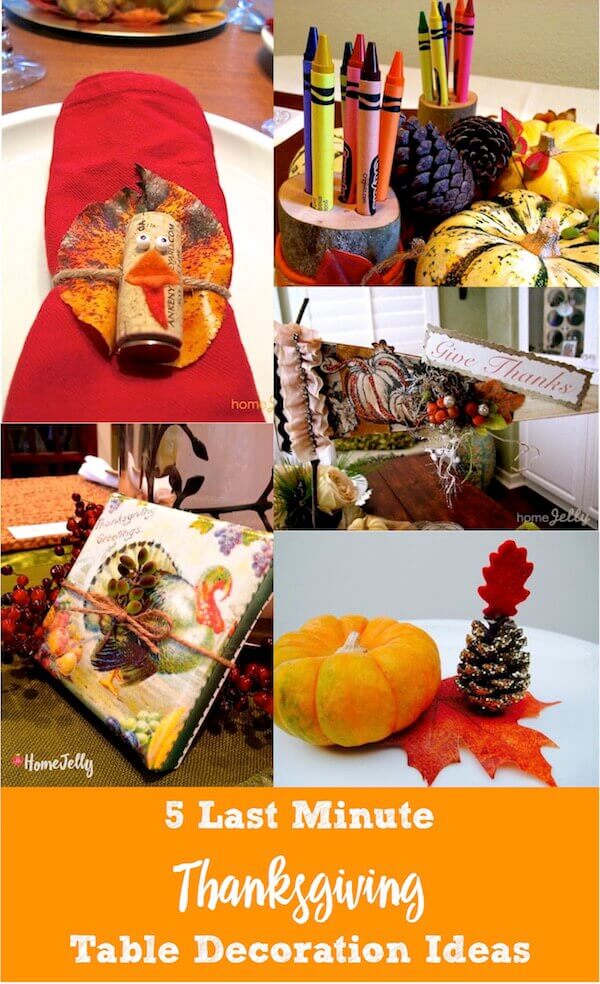 If you're like me, you've probably got a party-prepping list several pages long. Well, my friends, you can now scratch one of them off your list with today's round-up post featuring 5 super easy table decorating ideas for Thanksgiving day.
#1: Create Turkey Wine Cork Napkin Holders
I love this crafty project, because your kids (or nieces and nephews) can help! Send them off to gather freshly fallen leaves, then follow the super-duper easy how-to instructions and you'll have these done in no time!
From fun and natural crayon holders (which can be gifted afterward), to get-to-know-you question cards and Turkey-related mazes to keep little ones entertained (sans technology), the adults will be pining to sit at the kids' table this year.
#3: Vintage Scrap Paper "Give Thanks" Centerpiece Flag
Want to impress your Thanksgiving guests? Create this very festive vintage scrap paper "Give Thanks" centerpiece flag to add height and graphic fun to your table.
#4: Vintage Canvas Keepsake/Hostess Gift
Repurpose those Martha Stewart, Better Homes & Garden, and/or Real Simple magazines by way of this easy-to-make canvas keepsake that can be gifted to guests or your hostess.
#5: Thanksgiving Pine Cone Place Setting Marker
Here's another one for the kiddos! While they're walking the family dog or out for a walk, ask them to gather like-sized mini pine cones for a last minute, autumn-seasonal way to mark your guest's places at the table.
Bonus!
Whether you make one or more of these projects or use whatcha already have in your home, you'll love these 10 simple steps to creating an amazing tablescape.
Happy Thanksgiving HomeJellies!
All photography by Skaie Knox/HomeJelly