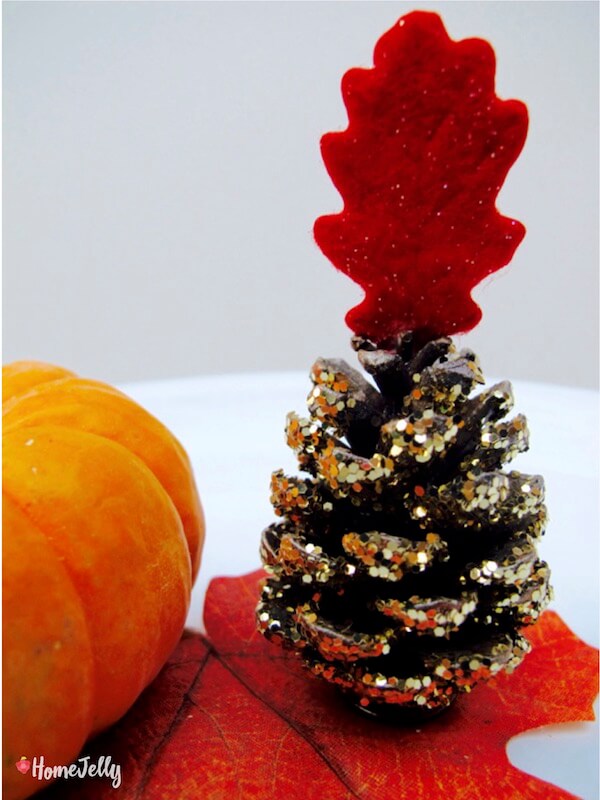 Why is it, when it comes to the days right before a holiday or vacation, time seems to run at a much faster pace?
Arg..why aren't Mondays like this?
Since I'm in charge of the table setting this year, I smartly planned ahead and finished this fun acorn autumn tree centerpiece (and even made a video of it as well!).
Yes…centerpiece, "Check!"
That, along with some pumpkins, small oranges, candles and evergreens will make a very natural and simple tablescape.
Uh, huh…tablescape, "Check!"
But, there's still something missing.
My beloved Aunt Mim taught me, when it comes to making your guests feel special and to create long-lasting memories, "It's all about the details."
So…I decided, I'd make a super cute marker for each place setting – plus, I'd add a little something to get the table conversation started.
This project is a perfect last minute idea to add a special touch to your holiday table (and can be modified for any celebration for that matter!). It's so simple to make and requires easy-to-access ingredients.
Oh, yeah…and, it also takes very little time – a valuable, yet hasty, commodity that I'm determined not to get the best of me!
Supplies:
small pine cones (the smallest you can find) – as many as there are guests
spray paint – (I used sierra mist, a coppery toned tint)
empty egg carton
adhesive spray
glitter
faux, felt or real maple leaves
Elmer's glue
glue gun
pennies
Optional: Thanksgiving conversation starters
Instructions:
1. Set pine cones upside-down in an egg carton, then spray to cover with paint. Allow to dry.
2. Mist with adhesive spray, then dip into a bowl of glitter. Allow to dry.
3. Glue a single leaf to the top of the pine cone (like a star on a tree) using Elmer's.
4. Hot glue a penny to the bottom of each pine cone so that it will stand up on its own.
You're done!
Now It's Your Turn!
How would you modify this project? Do tell!
All photography by Skaie Knox, HomeJelly