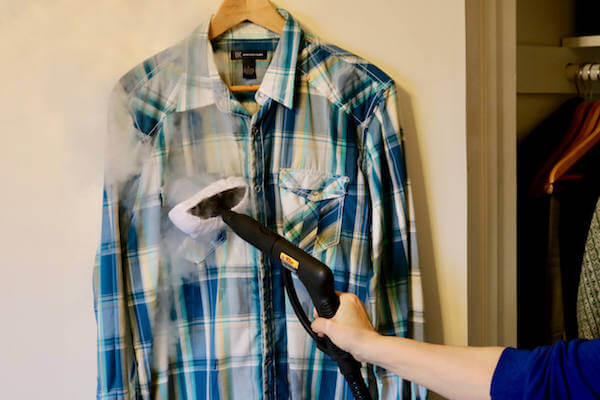 This is a sponsored post and contains affiliate links.
The notion of organizing one's home (especially a full-on, spring cleaning session) for some of us can actually increase both our anxiety and blood pressure. For others, like my brother Ian, it can have them running for the proverbial procrastinator's hills! To add another obstacle, he wanted to swap rooms, turning this office below into his bedroom because it was more spacious and had better natural light.
But, not this year!
After totally decluttering his very cluttered garage, I cleared my calendar to help him clear out his closets and came up with three super simple organizing tricks that will have even procrastinators abracadabra-ing their own homes.
Trick #1: Recruit/bribe a friend or family member.
This, by far, is the MOST important trick. When you ask another person to help you, the following magical results often appear:
• This GIANT mountain of a task seems more doable. When facing weeks, months and sometimes years or sorting through piled-up stuff, the task of organizing it can be mentally overwhelming. Traversing, so to speak, this not-so-minor chore is much more doable with someone who has your organizing back.
• You start on the day and time you say you will. You know their time is important, so, this now makes it NOT all about YOU, it makes it about your friend or family member.
• They help you stay focused and on task. When someone isn't emotionally tied to your "stuff", they're more able to ask you questions like, "Do you really need that ____ anymore?" or "When was the last time you even looked at that ____?!?", or "Why not give that ____ to someone who can really use it?" Just having someone say these things out loud can really help a procrastinator let go of stuff he/she really doesn't need anymore.
• You'll enjoy some emotional support. Grant it, the previous hard questions might inspire a procrastinator to donate, recycle or trash some long-held-on items, but it can be difficult. Encouragement that you've done the right thing, or just talking it through can go a long way in "letting go" (figuratively and literally!).
• It's more fun with a buddy! As the adage goes, "Misery loves company." Organizing, especially spring cleaning, can take hours and sometimes days. When you're able to share the experience with someone else, you find the time flies.
Trick #2: Sort, Sort, Sort, THEN Purge, Purge, Purge!
Let's face it, clutter can be overwhelming for even the most motivated person. When we analyze every piece of paper, knick-knack or garment, we can experience "decision paralysis". Sorting into the following categories helps us compartmentalize our stuff (again, literally and figuratively):
A. Keep – Rule of Thumb: if something makes you feel good, keep it! My brother ended up purging half his closet and pared down his wardrobe to some really great pieces.
I helped him steam some of his favorite shirts he had forgotten he had (I call it "clutter-blindness") with the help of my wonderful HomeRight SteamMachine. Check out my review of this handy home-helper and see how versatile it is.
B. Donate – this is the feel-good step of organizing. If you're hesitant about letting go of something, know that you're actually giving it a new life by allowing someone to use and appreciate it now.
C. Recycle – be sure to check your city's list of recyclables, including how to recycle hazardous and e-waste.
D. Trash – do the same for this step regarding how to dispose of items that could be harmful to the environment. Also, for large purging sessions (like ridding of furniture or large items) cities often have large-item pick-up services for free once or twice a year.
E. Look through later – this last one, some might argue, could be a slippery slope and an invitation for procrastinators to avoid accomplishing the complete task of organizing. However, the most important goal for "I'll-get-to-that-later-Latersons" is to GET STARTED. Not having this category could undermine the overall task and make someone who puts things off to give up due to the inability to decide on the spot.
Let's just call E. on this list a stopgap for procrastinators. As for the next step of purging…
According to my long-time friend and organizing expert, Bridget Johnson, this is absolutely CRITICAL. "People often hold onto stuff from the past they haven't looked at or used for years, which ends up cluttering their life in the present," she notes. With the task of sorting done, purging comes almost automatically.
Trick #3: Create an Ongoing Organization System: Storage!
Okay. Now is the time to get real, people. Storage is a premium for many of us, and the lack of closet space, shelving, cabinetry, drawers, bins, boxes or drawer organizers is a real problem when it comes to getting AND staying organized. You cannot have a system if you don't have the tools to do so.
Additionally, as is the case for my brother, he doesn't have the time to DIY a trashed dresser drawer into a storage unit (or gym cabinet) or build a shoe rack out of crates.
So, what does a procrastinator do?
Open your wallet and invest in yourself! Yes, actually buying new stuff now is the answer to saving you tons of time AND money later. Thanks to amazon, Target and Ikea (I am Swedish, ya know!) the ability to finding what you need for a reasonable price is doable.
The organizer's shopping list:
• storage bins/boxes – these come in ALL sizes and can even fit under your bed. The clear ones are great so you can see what's inside. Use this trick (see step #4) to keep your organized boxes even MORE organized!
• closet organizers – shoe racks, hanging sweater/shoe racks, hooks and decorative boxes are fabulous space savers, great for small closets and keeps your stuff off the floor.
• shelving – this is often the one most overlooked; however, it's a way to change the overall look of your room AND keep things tidy. You can even feature collectables or loved books by smartly styling them.
• cabinetry/drawers – if you're like my brother, who had NO furniture with storage capabilities, you're fighting an uphill battle. This was one of the top reasons why his office/art studio became an unworkable space. It is critical to create accessible, organized storage for tools and supplies to make life and work productive and fun!
When it comes to paper clutter, drawers and/or filing folders can be a game-changer. Organizing professional, Bridget Johnson goes on to note, "Have a spot for 'action' pieces: when paper comes in, you either toss it, file it or take action with it."
Note: Ian bought this Ikea Alex drawers on casters (great for artists, crafters and sewing enthusiasts) for his oversized paper and art supplies and LOVES it! He also bought these to place inside a couple drawers:
• drawer organizers: these handy hidden gems are absolute do decluttering wizardry AND they're cheap! Place them in dresser drawers, desk drawers, cabinet drawers and bathroom drawers to keep everything from socks, pencils, paper clips, paint brushes, combs and just about anything you can think of in their place.
• desktop accessories: pencil/pen holders, letter trays, paper bins, mini storage chests, etc. keep your workspace workable.
• 3-ring pocket pages: perfect for keeping loose paper items that you wouldn't want to 3-hole punch. Bridget says, "It's a great way to keep things organized/together and not flopping around or at risk of falling out."
Extra Organizing Trick: Add New Decor!
Fresh decor is a great motivator and reward for getting and staying organized – it's amazing how great it feels to be decluttered, organized AND beautiful!
• artwork/photography: Hanging imagery that is motivating to you ongoing will actually motivate you NOW to get and stay organized.
• faux greenery: today you can find fantastic faux greenery, like succulents and grasses, that is PERFECT for PROCRASTINATORS! No muss, no fuss. Check out Michael's and Ikea or your local antiques markets.
• photographs: placing photos of loved ones and happy events brings a sense of home and lightness to any space and can inspire us to be our best selves.
• stored away knick-knacks: make the old new again by pulling collectables, awards, travel trinkets and/or knick-knacks and display them smartly on a shelf or bookcase. Note: be sure to only add items that make you feel good and keep it simple. I love this article on easy tips for styling a bookcase by Kathy of Up To Date Interiors.
Room Swap "AFTER"!
My Brother's NEW Bedroom!
Aaaaaand, his new office!
Try this tricks and feel free to let us know if they work for you. If you've got any of your own, please share!
This post was sponsored by

I've teamed up with HomeRight and am proud to be one of their paid brand ambassadors. I also received a HomeRight product sample to use in this post and have included affiliate links to the tools and supplies I used in this project. My personal opinions

are completely my own based on my experience. I wouldn't have it any other way!