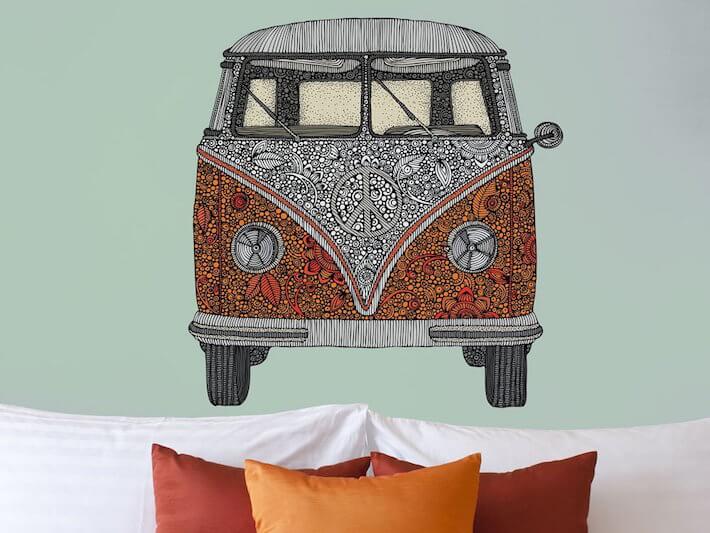 Stuff. VW Bus.
VW Bus Toaster: these babies even toast a classic VW emblem on your slice of bread! There were only 5,000 made, so you'll have to snatch one up, if and when you find one. I came across these on ebay ranging from $244.99 to $485.88. Note: be sure it is the dealer's original Volkswagon Minibus Toaster (Not for Sale) from Japan.
VW Bus Wall Decal: graphic and cool for all us VW nerds. Available at the HomeJelly Amazon Store
starting at $21.38. Just peel and stick.
VW Bus Twin Bed: for that hip and hippie kid of yours that'll just love to go to bed! This could also be the coolest dog or guest bed ever! Find more information and how to purchase at KidsCreationsBeds, etsy. Price: $2,800.00.
VW Bier Bus Kegerator Fridge: fun an functional, this fridge includes two beer taps and an apropos license plate. Source: lonelyfrenchtravelier.tumblr.com (link no longer active).
VW Bus Vintage Fabric: oh, how I can see using this fabulous fabric on a throw pillow or curtains! It's even quirky enough to frame! For just $8.25 a yard, it's wunderbar! Buy some at Fabricworm.com, Simplififabric.com, or Greenwoodquiltery.com ($22.95). Note: since this is a popular design, item may be out of stock. You can try and write the shops and request more.
VW Bus Radio with iPod & MP3 Player: any VW lover would totally dig this cute and decorative music player. I know I would! Also available in VW stock mint green and in time to save up for Father's Day! Available at our HomeJelly Amazon shop
, on sale for $119.99.
Did you own a VW Bus? What year and color?
This post includes affiliate links.