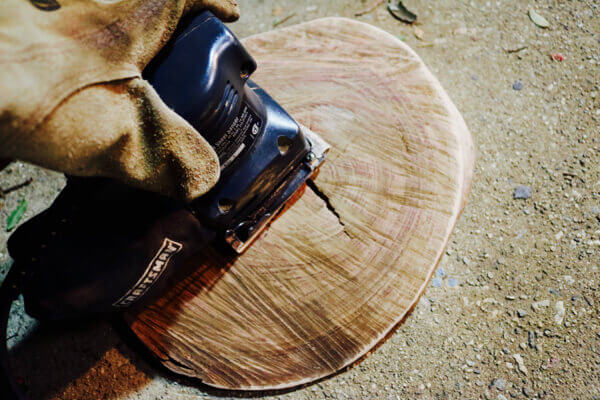 I don't know what's gotten into me this year. For the first time ever, I wasn't clambering to get to the Christmas tree store (er, Home Depot) to pick up my usual 6′-ish tall Noble Fir.
Which some say is the "Cadillac" of Christmas Trees.
Nope. I had a whole other idea to gather all my scrap wood and bits of reclaimed wood I've collected over this past year, and turn it into a fabulously "green", trinket-filled tanenbaum!
So I did!
Supplies:
• scrap/reclaimed wood – approximately 2-3″ wide, varying lengths
• jigsaw/table saw (I use the fabulous BladeRunner X2)
• sand block & sandpaper (P60 for rough edges, P120 for a finer finish)
• drill
• dowel
• wooden beads
• tree trunk piece for the base (available at most craft stores or Michael's)
Instructions:
1. Choose your wood scraps. The more different they are, the better.
2. Cut them from smallest to largest in the shape of a tree. Sand the edges smooth.
3. Measure the width of your dowel, then drill a hole through each wood piece. Sand rough edges smooth.
4. Drill wooden beads. Note: if you'd rather cut more wood pieces that can eventually stack upon each other to make the entire tree, you can skip step 4.
5. Assemble your tree. Place a bead in between each wood piece. Note: again, skip the beads if you'd like only wooden pieces.
Insider note: With mine, I actually cut flat pieces, sanded their edges, then drilled them to be placed under each wooden slat. I later realized I could have just cut more wood to skip this step entirely. Oh, well…Oh, Christmas tree!
6. Drill a hole in the base of your trunk base, then place the tree into the hole. Note: if you've cut your own trunk base, be sure to sand it smooth before drilling.
7. Top your tree with a bead or star or whatever you wish. Done!
All photography and video by Skaie Knox, HomeJelly