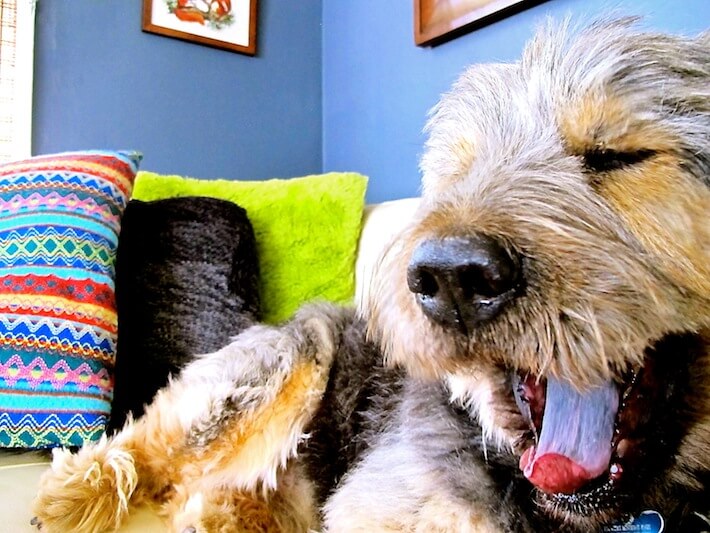 Over the years, I've painted a wall or two resulting in paint swatches galore. This time around, I was on a mission to select the absolute perfect color for our living room makeover. It had to be dark, but with a hint of blue…slate blue to be exact. So, as luck would have it (along with the DIY Gods smiling down on me) I found precisely what I was looking for-the paint swatch even read "Slate Blue"! Still, I did my due diligence and chose two additional shades, just to be sure. Bah. No contest. Slate blue it was!
Oh, here's a reminder of what the "before" looked like:
Before brushing on the six sample cans of varying pigments, we removed all the artwork and mirrors, revealing toggle bolt screw holes that clearly had to be addressed (and filled).
A jump-for-joy moment for me was when we spent the best $15 to hide all our lovely surround sound speaker cables! Thanks Wiremold
!
Whomever thought up offering the Home Depot paint sample jars, I'd like to give you a high-five (Yep. I'm just not a knuckle-bumper kinda gal!). Now, we can properly and inexpensively try out different colors to really get the look we want! Tip: be sure to paint a large enough swatch of each sample color on the wall(s) you're wanting to paint. Then, watch how the colors change throughout the day (by way of the room's natural light) to see which shade you like best.
We decided an entirely dark room might be…well, too dark. So…we opted for a complementary grey to pick up the slatiness of the slate blue color.
Check out the entire living room makeover reveal! For now, you can take a peek at Matty painting away, and Klunkers enjoying the warmth of his new modern digs.
What colors would you have chosen for our living room space? The same, or totally different altogether?
All photography by Skaie Knox, HomeJelly
This post contains an affiliate link.