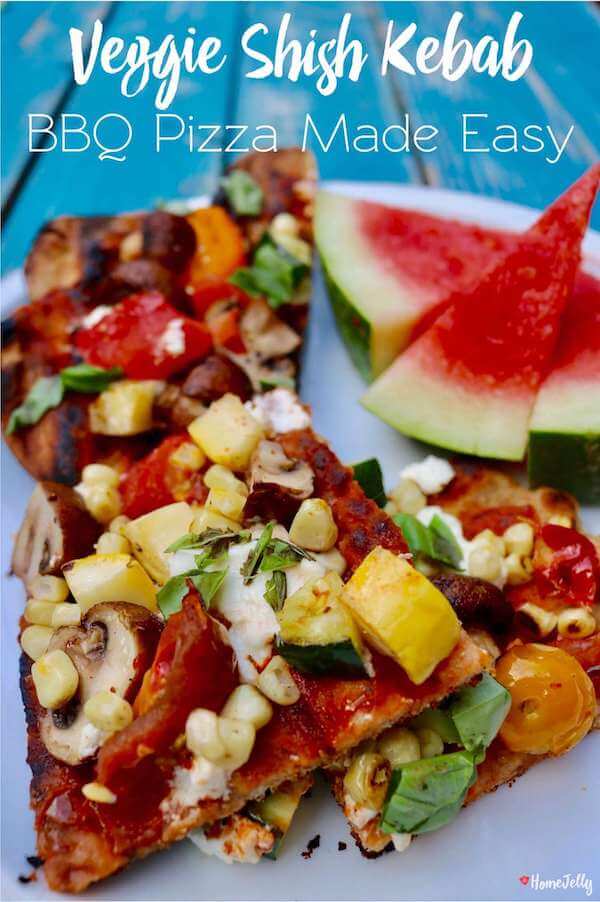 It's a warm, slightly breezy afternoon, with an assortment of summer sounds wafting through the screen of my front door: the distant chattering of neighborhood kids forming teams to play kick-the-can; a couple of dogs barking 'n arguing back and forth over fences; the fluttering leaves that occasionally wrestle from their trees, then drift down to settle silently on cool grass.
With all this outdoor activity, there's nothing like BBQing al fresco to take it all in.
Today's recipe, "Veggie Shish Kebab BBQ Pizza" is made easy for you to celebrate summer, its fresh and healthy vegetables, and to also enjoy two family favorites cooked and combined together in a fun, under-the-sun, and oh, so delicious way! With the help HomeRight's Electro-Light Fire Starter, you can also make this dish in no time. Now, kick off your shoes, put on some tunes, and enjoy the simple sounds and fresh tastes of summer.
Tools:
Metal Prongs
• Spatula
• HomeRight's Electro-Light Fire Starter
• Marinating brush
• (3) Skewers
• Large Cutting Board
Ingredients:
• 1 large zucchini
• 1 large, yellow summer squash
• 6 – 8 mini heirloom tomatoes
• 6 – 8 crimini mushrooms
• 1 large corn on the cob
• Extra virgin olive oil
• Salt/Pepper
• Tajin Classico Seasoning
• Whole wheat pizza dough – Pre-made like these at Trader Joe's OR use this homemade recipe.
• ¼ cup white flour
• Spaghetti or Pizza sauce
• Goat cheese
• Fresh basil
Visit HomeRight for FULL recipe instructions.
All photography by Skaie Knox/HomeJelly
This post was sponsored by
I've teamed up with HomeRight and am proud to be one of their paid brand ambassadors. I also received a HomeRight product sample to use in this post – my personal opinions are completely my own based on my experience. I wouldn't have it any other way!