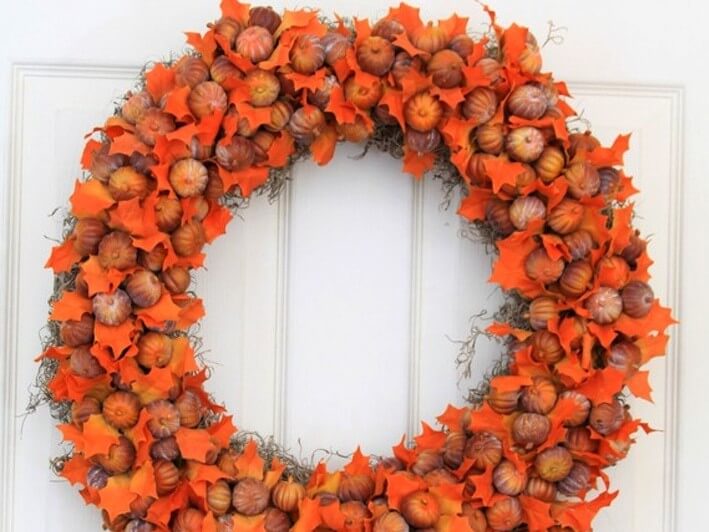 With families coming together to celebrate this holiday of gratitude, what better way to welcome them home than a charming autumn themed entryway? This is a season where nature literally falls at your feet, and the perfect reason to utilize its beauty to decorate your home's front door. What's fabulous about these following ideas is that they can be displayed from September to the end of November, something to plan ahead for next year. Now that's something to give thanks for!
Hang an old pitch fork with a whimsy of Indian corn cobs for a rustic look.
This is our Thanksgiving version of our Halloween candy corn wreath, with mini pumpkins and autumn leaves to create a "gourdious" greeting for guests. Click in to lovewewreath's shop on etsy for where to purchase.
Your guests will thank you before they enter with the chance to "gussy up" with this decorated looking glass. Hang a fancy mirror with leaves, pine cones and ribbon for classy decor.
Let your kids have a hand at this paper leaf wreath. Find a simple leaf template online, cut out of autumn colored papers, then glue together onto a cardboard circle. Hang with a ribbon and give thanks to your young ones.
Let your guests know they're at the right place with pumpkins! Use decorative nail heads to mark your house number, name, initials, or design to inform and impress.