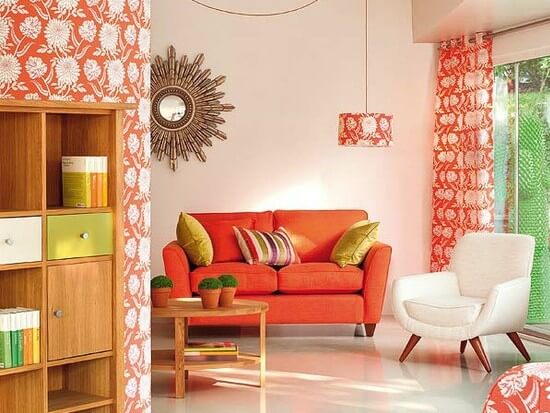 If you're as much of a "design-digger" as I am, you may agree that this season's "new black" is coral. It combines modern, retro, and a fresh feel that awakens and inspires the senses, and is also why we have featured this color for today's "room of the day". It's all in the merging of vintage and current pieces: from the retro starburst mirror and mid-century modern chairs and footstools, to the contemporary-casual clean lines of the coffee table, bookshelves, lamp, and grommet curtains. Combining elements from different design styles and eras makes for an interesting, fun, and fabulous space!
Take a look at these DiggersList Finds along with "Make It Work" tips to create this room in your own home. Click on images to view listings and to purchase.
Make it Work: hang and feature a retro mirror to instantly transform your room from drab to hip.
Make it Work: refurbish and reupholster this stylish, retro ottoman and chair with a bold, modern pattern (featuring coral) to create a super-cool statement in your new space.
Make it Work: these coral pieces can be brought back to life with a professional cleaning, or to save on cost, keep the cushions that are in good condition as is and reupholster where needed.
Make it Work: wrap with fabric glue and a matching bold pattern for a hanging lamp perfect for your eclectic-coral mod room.
Make it Work: transform this coffee table from retro-ugly to retro-chic…sand and paint a glossy white, then add a glass top to protect.
Make it Work: this vintage bookcase gem can be left as is or painted a glossy white for a modern edge…either way, it will be a focal point piece in your mod space.
Make it Work: plants are the perfect accessory and is a design trick to bring "life!" to your room.
Send us a photo of your room to be featured as a DiggersList

All photography by Skaie Knox, HomeJelly