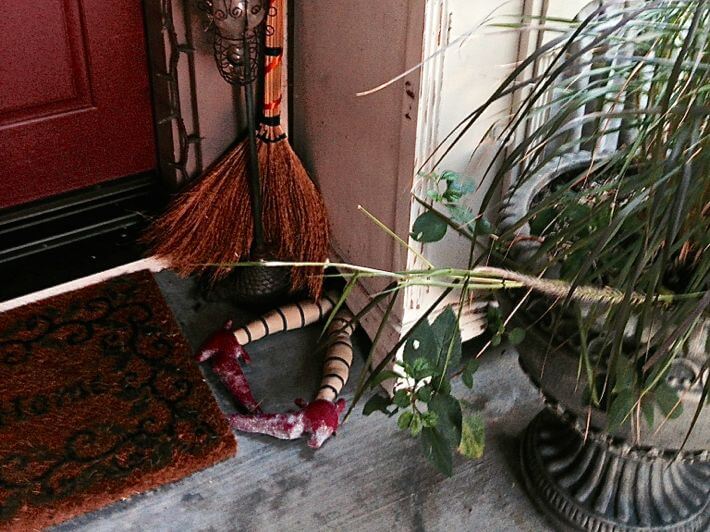 Every year she does it again. HomeJelly contributor and friend, Bridget Johnson, is a wizard when it comes to holiday decor. With an eclectic mix of hand-made, DIY'd and hand-selected items, Bridget brilliantly layers the old with the new to create something that is richly decadent and hauntingly delightful for her family, neighbors and us…just in time for Halloween!
Now, sit back and scroll down to view the many ideas you, too can try at home for your little ghosts and goblins. You'll definitely want to say "Boo!"…but in a good way!
A fantastic way to hang signs you buy or make is to pair them with something as simple as a bicycle. It offers whimsy and opportunity to add cute plants and other elements for a very well-put-together vignette!
Gates like this cute picket fence, are just screaming to be decorated! Boo signs, cobwebs, lights, and just about anything that'll hang are perfect for giving trick or treaters a haunting "hello!"
Be bold and insert faux birds, sculls and/or bats to your pathway to welcome guests with a fun effect. Old or unused ceramic pots serve as great holders for pumpkins and other decor items.
It's amazing how layering gauze and simple cotton material can create decorative interest. Experiment with fabrics like these that are super inexpensive and easily accessible at party, craft and fabric stores. Make your own Halloween sign with a Sharpie pen and tea to dye cotton fabric. Then, to finish it off with rustic flair, string it up with twine.
Stores like Trader Joe's and even Ralphs are now selling these "fairytale" type pumpkins. The different colors and shapes are an easy way to add texture to your curb's appeal.
Vintage signage, repurposed window shutters, and a small table are the main ingredients for this fantastic vignette. Great for all seasons, succulent greenery can be sprinkled in amongst your decorations for a touch of color and nature.
If you look closely, you'll see a very fine, but boney, detail amongst the greenery. These small features have big results when it comes to decorations.
Indoor furniture used for outdoor decor is definitely unexpected…especially when the weather starts to cool. The benefit is that these items are usable and infuse unexpected sophistication.
As Halloween visitors wait for you to answer the door, they can also enjoy more of your fun entryway decorations. We can see here, at the Johnson house, a creepy homage was paid to the Wicked Witch of the East that befell the fate of Dorothy's falling house. Ewwww…how hauntingly delightful!
How do you create Halloween curb appeal?
Styled and photographed by Bridget Johnson, HomeJelly