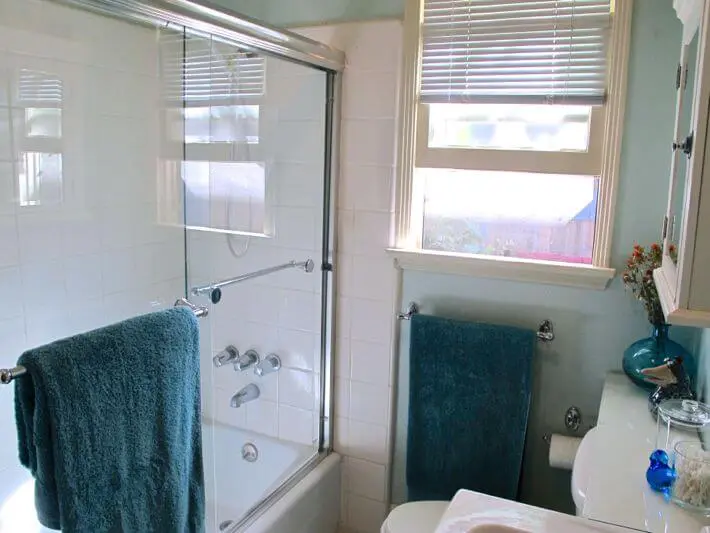 Yep. You know you've done it, too. Lived, possibly for years, with that dreaded eye-sore feature in your bathroom that's easier to tolerate than update (tile backsplash, countertops, that "ugh-o" brass faucet). Hey, it's not like changing the color scheme of your bathroom's bath and shower metal door is as easy as screwing in new hardware…or is it?
My friends, I'm here to announce Delta's fabulous new customized design tool for creating the dream bath and/or shower door you've always wanted. And, yes, it's as easy as 1-2-3!
I was thrilled to be sponsored by Delta to try the tool myself. Ah, yes…the universe has incredible timing: my husband and I were just about to go to Home Depot to look for a new door that weekend! Coincidentally, if you do find yourself at your local Home Depot, they, too offer Delta's easy-selection process to design the exact shower or tub in shower door for your home (prices range from $199-$325).
Tip: if you'd like to do a more dramatic makeover to your wishy-washy, mix-matched washroom, update your hardware and fixtures to match your new door. It's amazing the difference with such a minor monetary investment.
I have to say, even though I'm pretty well-versed in online shopping, when it comes to designing the exact specifications, dimensions, color and hardware style of an install feature for my home (especially when there is breakable glass involved), I tend to get a little flustered and dubious as to what will eventually show up at my door.
Bathroom Makeover Phase 1:
To put everyone at ease, I have to say, it was as easy as 1-2-3 (Yeah, I know! Go figure, right?)! Here is the step-by-step process for phase one of my bathroom makeover process:
Step 1: I clicked into Delta's Shower Doors.
Step 2: I clicked "Start Now".
Step: 3: I followed their easy as 1-2-3 process and was done!
There were some really wonderful finishes to their hardware and glass…the hardest part was choosing which one! I decided, that because our current hardware and faucets were chrome, I'd choose the same finish for our new door. The benefit? This makeover would be complete with this one simple change!
I received the door just a week or so later and then had to decide if I would DIY it or have a professional do the job. Hmm…what was I to do? Admittedly, my blogger rep was on the line. However, recognizing the wisdom of knowing my limits, I chose the latter. If you'd like to give it a go, Delta provides this handy DIY video to help you be successful.
Bathroom Makeover Phase 2:
My first thought after deciding I'd hire a professional to install my new Delta shower (and, come on folks, sometimes it feels so goooood to hire a pro!), was to contact HomeAdvisor. They offer a secure way to find verified and prescreened contractors in your local area, as well as provide personal support to help you hire a pro you can trust. To find someone near you, simply click on their "Find a Pro" link and follow their easy steps, or click on the logo below:
For the second phase of my bathroom makeover, I knew I had to find the right person to do the job. Because there was a possibility of damage/breakage being done to our existing tile or the new glass door, I decided to ask for personal help.
I contacted Keirsten Castillo, my HomeAdvisor project adviser, whom I had consulted on a previous project. She had great suggestions for hiring just the right person, getting the job done and personally set me up with several professionals. You can choose to seek the help of someone like Keirsten, or opt to use their online tool, which is super easy to navigate. Here was my step-by-step pro-searching process:
Step 1: Clicked in to HomeAdvisor's "Find A Pro" button.
Step 2: Followed their easy prompts.
Step 3: I was matched with three pros who contacted me with quotes.
Step 4: I utilized the help of my project advisor for more suggestions.
Step 5: I contacted the best one, in my opinion, and hired Pedro Flores of Finish Carpentry Sampedro (Note: Pedro's business card reads "Sampedro", but his listing reads "San Pedro". He was fantastic and got the job done!
The Results!
I was absolutely thrilled with the results! See for yourself via our "Before and After" photos!
Mismatched metal colors (brass shower/tub door vs. chrome fixtures and hardware) made this bathroom sad and outdated. With this simple switcheroo, it's now current, cute and coordinated!
Oh, yeah. There's bling in this bathroom now!
All photography (except otherwise indicated) by Skaie Knox, HomeJelly
This was a sponsored post by Delta and HomeAdvisor. The opinions are completely my own based on my experience.