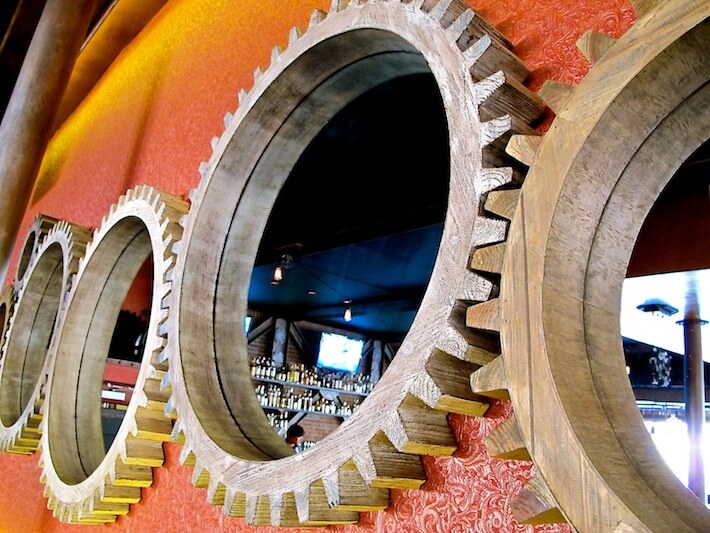 Fun news! I was asked to be a contributing writer for LA's Divulge Magazine, a very hip, urban zine that features everything from the arts to pop culture, and now current and trending decor! Here's an excerpt of my first article:
————————————————————————————————————————–
It was a pretty quiet and unassuming Tuesday evening. The sun hung low over the sleepy seaside city of Manhattan Beach, while white gulls gently sailed overhead like Delta kites. It was the perfect setting to check out my neighborhood's newest chef-driven eatery called Circa.
My dining companion, hubby, Matt Knox, and I were in for a real tasty treat at the hands of culinary A-Listers including: executive chef, Bryon Freeze, winner of Anne Burrell's Food Network show, Chef Wanted; consulting chef, Octavio Becerra, former owner of the LA's award winning restaurant, Palate Food + Wine; and mixologist master, Julian Cox.
Pulling open the wrench-handled glass door, we entered. The wafting aroma of pork belly, wood-grilled Korean beef and freshly baked bread, hit me with a real Pavlovian punch. Mouth. Watering.
Admittedly, though, my priority mission was to investigate Circa's sexy "steampunk industrial vintage" decor. The mastermind behind these flavorful furnishings and funky fixtures is Larry Drasin of Drasin Design, Inc.
As we made our way to the bar, my eyes immediately darted to the ceiling and mortared brick walls that displayed old school, Edison filament bulbs housed in 1950s factory scissor sconces and cast-iron, barn door trolly pendant lights, courtesy of Restoration Hardware.
A couple of my favorite features were the huge industrial sliding door and the collection of custom cogwheel mirrors…
Update: This Circa Restaurant location is now closed.
It was a decor and epicurean delight! You can read the full-story of my time at Circa in the May 2013 issue of Divulge Magazine.
All photography (except for magazine cover) by Skaie Knox, via HomeJelly/Divulge Magazine