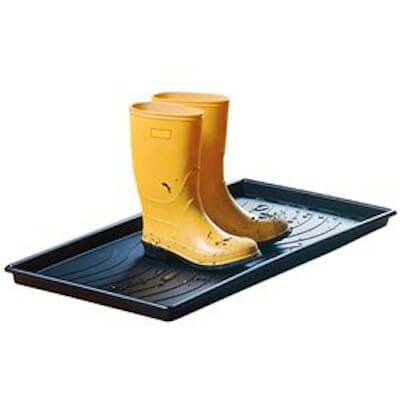 For us, our child is our dog (or is it the other way around?!?). For many of you, your pups are, too. So, when considering the needs of our home spaces, we should definitely include our K9 kids and all their puppy paraphernalia. Today's room of the day is so spectacular that I'm just giddy about trying something like this in our bungalow.
The main feature furniture piece was originally designed by Pottery Barn. Though they no longer offer this item, you can simply place a dog bed at the foot of a bookcase which could work just as well (just be sure it is anchored to the wall). Baskets for balls, bones and such is a must, along with sturdy hooks for easy access to leashes.
A hardy sisal rug helps lower the tracking of muddy paw prints onto floors and carpets, and a healthy raised bowl, staged neatly under a feature art wall will satisfy your doggie's appetite for kibble and fluffy fine art.
Whether you can devote an entire room (mud or laundry) or just a small entryway or part of your garage to your best friend, dog decor can be fabulously fashionable and functional for our four-legged furballs.
Get this doggie "Ruff! Room" in your home:
• Bookcase: this attractive and functional bookcase was just $50 on DiggersList.com. Visit this site for more bookcases in your area.
• Dog bed: with so many modern fabrics and colors to choose from, you can certainly keep your dogs digs posh and stylish. Price: $33.88. red/gold striped chenille dog bed
available at amazon.com.
• Rattan baskets: perfect for all your pooches stuff, stay organized and keep shelves uncluttered. Price: $27.07-$28.97, rattan baskets, set of 3
available at amazon.com.
• Dog hook: I love this dog hook that doubles as wall art. Price: $44.00; doggie row of hooks available at potterbarn.com.
• Pooch portrait painting: to start your feature wall off right, have your pup's picture painted by fabulous artist Rachael Rossman…she'll absolutely create a memory to last a lifetime. Prices: from $90-$1000, depending on size and subject matter. Visit rachaelrossman.com for more information…and, say "Hi!" from Skaie!
• Raised dog dishes: your pup will dine in comfort and vintage panache with these stylish dog bowls and stands. Price: $19.00 – $39.00. Dog dishes available at potterybarn.com.
• Sisal rug: this hardy and easy-to-clean floor covering is a great way to define Spot's space. Price: $79.00 for the 5-Feet by 8-Feet sisal rug
, available at amazon.com.
Boot storage tray: I doubt your dog will mind if you store your dog-walking boots in his space. Price: $8.97, boot storage tray
available at amazon.com.
What do you think about this dog room? How would you make it work for your home?
This blog contains affiliate links.