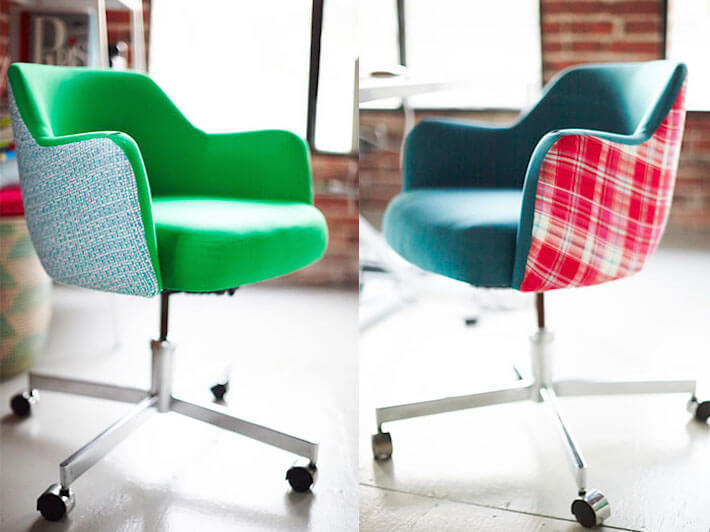 There's something quite familiar and sweet about the following rolling office chairs. I'm sure the girl in me loooves all the bright and happy colors; the decor nerd in me loves their homage to retro design (I seem to remember the plastic one in school offices growing up – typically in a powder blue or white). I also think the ability to move and wheel about as I work appeals to my creative and non-static method of thinking. That being said, I offer today a quick glance at these very cherry chairs.
Not only will we be bookmarking this fabulous post by Cheetah Is The New Black, we're going dumpster diving and chair hunting on DiggersList to find these typically blasé-colored office chairs (above). Using the old cover as a template, simply reupholster with a fun, vintage fabric to create something super creative and boho to your work space.
Believe it or not, this $10 find covered in baby sh*# brown vinyl (yech!) was simply primed, then painted with semi-gloss latex paint. Clever and resourceful blogger Angela from The Painted House, then invited her kids, friends and husband (nice!) to draw whatever they wished all over it! How personal and fun! We vote this as "Before and After" of the month!
Fun! Now we've got another item on our "must-hunt-for" list, the next time we're off to the antique market! Thanks to HGTV host and designer, Emily Henderson, we also have a fantastic way to bring these oldie-but-goodie rolling chairs into the new and now! Click her name for the how-to!
Lucky for us, for a respectable $425, we can purchase one of these retro cutie-pies and add instant style to our home or away office. This model also comes in 17 other colors including indigo, celery and orange…delightful! Note: either this, or keep your eyes peeled for an authentic vintage version.
Here is a modern take on the MCM (mid-century modern) rolling desk chair. It certainly offers more cushy for the tushy and incentivizes a much longer work day due to its comfortable nature.
Now It's Your Turn!
Which one of the reupholstered retro rollers is your favie?