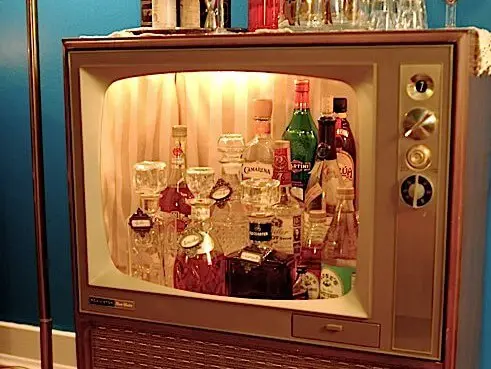 This post contains affiliate links.
Remember those clunky, boxy television sets? They were often made of simulated wood grain, and so darn heavy, no one dared rearrange their furniture (I suppose that's just how the "point everything at the TV" design phenomenon began?). Regardless, when I was a kid, they were welcomed pieces of furniture, with cool knobs and dials just asking to be pushed and turned.
With a smattering of repurposing creativity, DIYers are now reinventing once useless sets into homes for their cats and fish, and even funky-functional furniture. With retro and vintage all the rage, you'll see how the following designs take advantage of the mod and nostalgic feel these old school TVs still hold.
1. TV Liquor Cabinet: talk about hip…gutted then refilled with spirits and beautiful glass decanters, the party will definitely find it's sweet spot here. The installed internal light creates a theatrical feel, bringing attention to the array of colors, labels, and shapes that are very entertaining to the eye.
2. Dog & Cat Beds: what pet owner wouldn't like to watch their dog or cat snuggle up inside an old telly? With a comfy cushion and all the electronics and wires removed, your pooch and kitty will love to be the stars of their own show!
3. TV Book Shelf: almost unrecognizable, who knew an old cumbersome television cabinet could be revitalized into something charming and quite architecturally interesting?!? I'll be keeping my eye out for one of these bad boys for sure!
4. Aquarium TV: for the throw away your television types, go green and repurpose them instead! Fish are always nice to look at and you won't have to worry about turning down the sound. For the rest of us, this is just another terrific way to reinvent the TV!
5. TV Chair: go "shagadelic" with a converted tv/stereo console and win hipster of the year with all your friends. Cleverly conceived, there's so much cool here, I've gotta put on a coat.