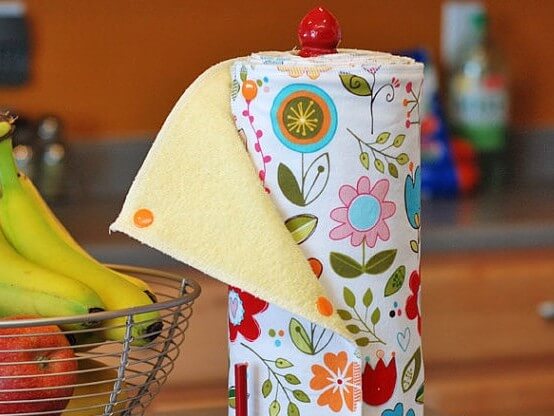 When it comes to considering our environmental footprints – our day to day impact on Mother Earth, it just makes good sense to "go green" and convert from the ecologically detrimental products we've been using. Take these three featured green goods I recently came across via some very earth friendly friends of mine. What's special about these items is that they are earth-friendly on-going – things we can use again and again, which in turn reduces waste and increases our awareness of how we can continue saving our planet's resources. So, with that, enjoy the following green home goods, and in honor of Earth Day month, we invite you to share them with your family and friends…now, let's celebrate!
Reusable Eco Friendly Snapping Paper Towel Set: made of 100% cotton print and backed with a terry washcloth material, these fancy, custom-made hand towels will save on waste in the landfill and on our receipts from the grocery store. With just a little getting used to using cloth towels instead of napkins or paper towels, Mom will thank you for your efforts. Note: critics may point out that having to wash these is also wasteful, but there's no need to throw them into the laundry bin after every meal. Simply shake-off crumbs, quickly rinse in the sink, then hang on a towel rod to dry. Cost: $52.00 (+ S&H), available at etsy.com.
Oxygenics Power Massage Shower System: with 35, (yes, thirty-five!) pressurized spray combinations AND a double shower head, you wouldn't think this system was earth friendly. Yup, it is, and it works wonderfully! With the help of my husband, Matt, we easily installed it this past weekend. Since then, we've been enjoying luscious massage and conscious-free showers, as it uses 25% less water and energy (that's a savings of approximately $70 per year). So, when it comes down to it, this product pays for itself. Cost: $49.99 (+ S&H), available at Bed Bath & Beyond.
Go Green Lunch Box and Food Container: our friends at Grades of Green, an earth friendly program to raise environmental awareness among kids, turned us on to this ecologically fantastic and updated version of the classic lunch box. What's really special about this particular snack pack is that it promotes a trash-free packing of lunches – no throwing away of plastic baggies, juice bottles, or paper bags. Additionally, its materials are phthalate-free, comes with a washable and reusable container with turn 'n lock technology so foods stay fresh, and uses soft silicon bands to prevent leakage, sealing each individual compartment. There's even an erasable white board to leave your kids or adult loved ones notes and reminders! Note: Visit Grades of Green for more cool, green information and to learn how your child's school can be a part of this growing and earth-effective program. Cost: $32 (includes shipping), available at gogreenlunchbox.com.