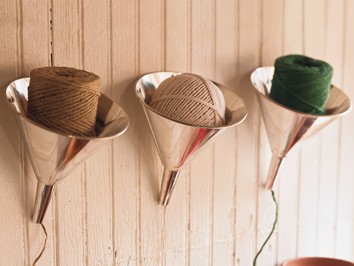 You've gotta hand it to her…Martha Stewart can certainly think up some fantastic ideas. She does it again here with 15 fabulous organizing how-tos from your garage to your car. It may take the entire summer to organize every one of your "nooks and crannies", but just think how much money you'll be able to make after you post all those unused home-improvement items on DiggersList (hint, hint!). It's a good thing.
Garage and Shed Organizing Ideas
Pegboard Organizer
Pegboard organizes tools and brooms, while a metal cart serves as a mobile workbench. Adjustable shelves display an assortment of containers, including a painted wooden box that stores glue; glass jars contain small hardware. And the pan of sand on the floor catches oil drips from the car.