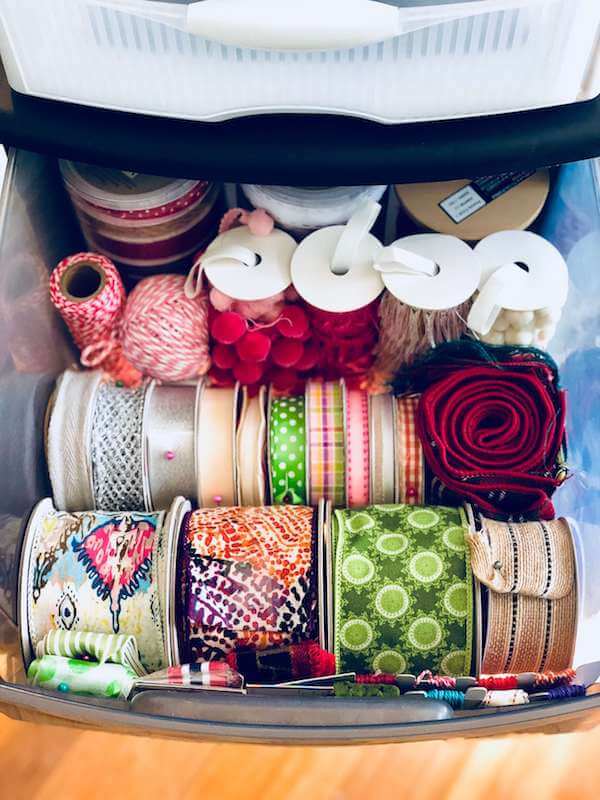 This is a sponsored post and contains affiliate links.
For me, fall is the spring to my cleaning. These past four days, I've been clearing out, sorting and purging stuff from every room in my house.
Go ahead and say it…I'm a glutton for punishment.
Yep-hhha.
Needless to say, I feel lighter and freer than ever. And thanks to today's sponsor, HomeRight, I even sanitized Krinkles' and Bear-Bear's toys, bowls and doggie accessories with their fabulously versatile steam cleaner. Read how thoroughly I was able to clean, deodorize and sanitize my pups stuff on their blog (link coming soon).
Now, when it came to my crafting/writing/office space, well…let's just say I felt like I was standing at South Base Camp in Napal readying myself for the Mount Everest of organizing.
I mean, where's a sherpa when you need one?!?
But, like a seasoned climber, I took it step by step, using tools and tricks to make the arduous ascent an easy one. Here now, are 5 must-haves to organizing your craft room – no oxygen required.
Must-Have #1: Cleaning Tools
This may be organizing 101, but to begin, we must CLEAN. Yes, clean like a boss! So, besides some good elbow grease, you should also have the following:
• towel rags/cleaning cloths for dusting
• cleansing spray (this one is earth friendly and cruelty-free)
• sponge with scouring pad for grimy surfaces
• dust pan and brush
• vacuum
• HomeRight Steam Cleaner for floors, windows, countertops and more
Must-Have #2: Storage
You might be saying to yourself, "Duuuh!", but wait! You may be surprised at this suggestion: DON'T buy anything BEFORE you SORT! This is KEY to saving time and money. Before traversing cross streets to your nearest Target, know what you have and what you're going to keep before you buy.
Take these steps first…join me in the organizing mantra:
Sort, Group, Store, Label, Donate, Recycle, Trash
The KEY, here, is to TAKE OUT EVERYTHING from EVERY drawer, shelf, box and bin. I did mention this was the Mount Everest of organizing, didn't I? To really feel the exhilaration of having your craft supplies and tools truly in order, this is a MUST-DO!
Once you've seen everything you have, this mantra will take you to the top of the mountain! You can also use this FREE DOWNLOADABLE craft supplies inventory list to help you sort, then group your supplies that works best for you.
Storage Around the House
Boxes, bins, tins and jars…oh, my! Seriously, use what you have available to you around your home first – even desks, dressers or bookcases. Unless you're looking to create a craft room worthy to be featured in a magazine, go hodgepodge posh and just get 'er done!
Bought Storage
Now, when it comes to crafting, we're often dealing with lots of LITTLE things like buttons, adornments, hanging hooks and screw that really could use a good storage solution. A great place to look is your local hardware store. They've got all kinds of super inexpensive storage bins and boxes.
You can also go for the plastic bins on wheels, plastic bins on wheels and under-the-bed storage types for supplies you need on hand or only occasionally. It's really all about your space and what you can afford real estate-wise.
Must-Have #3: Shelving
If you're short on storage space, go vertical! Shelves are wonderful for styling and storing and can add architectural interest to your craft room.
Shelves also offer a way to display your crafting supplies with a pop of color like this beautiful embroidery thread-filled glass box by Anthropologie (unfortunately, no longer available – but you might like one of these on etsy).
Must-Have #4: Labels or Labeler
With soooo many boxes, bins, tins and jars you're liable to end up with organized clutter (aren't oxymorons awesome?!?). To avoid the dreaded, "what box is that _____ in?" situation, labels can keep things super easy to find.
I found this label maker at Office Depot, but you can also order one here on Amazon. Tip: if you do purchase this labeler, be sure to reset the margins to 1/4″ to save you on tape! Go to "menu", then hit the arrow buttons until you see "margin". Tap "ok", then click the arrow until you see "narrow". Tap "ok" to set it. You did it!
Must-Have #5: Craft Supplies Inventory List
If you're like me, one craft room is not enough. Actually, mine is more of a multipurpose room – crafting, writing, songwriting, recording, yoga/stretching aaaaaand guest room. With this in mind, I'm somewhat forced to keep my supplies nipped and tucked away in other rooms of the house.
Luckily, I've devised a FREE DOWNLOADABLE craft supplies inventory list that allows you to keep track of your stuff according to room.
Don't Forget!
To complete this craft room conquest, don't forget to donate, recycle and trash unwanted or unusable supplies. Be sure to check with your city's hazardous and e-waste resources and policies to safely dispose of paints, solvents, adhesives, etc.
If you follow these steps and equip yourself with these five organizing must-haves, you'll be on your way to a wonderfully polished and productive craft room. Woohoo!
Or should I say, "Yodelayheehoo!"
This post was sponsored by

I've teamed up with HomeRight and am proud to be one of their paid brand ambassadors. I also received a HomeRight product sample to use in this post and have included affiliate links to the tools and supplies I used in this project which helps fund these posts and projects. My personal opinions

are completely my own based on my experience. I wouldn't have it any other way!