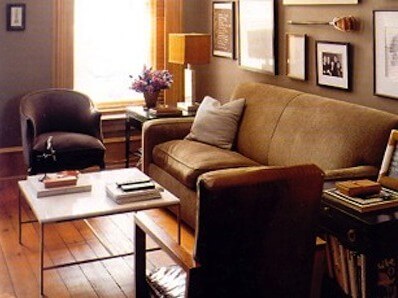 Yesterday, Oprah bid farewell to her "sweetie-pie" design go-to guy Nate Berkus. Amongst the video flashbacks of past room-makeovers, homeowner updates, and recalling memorable moments, I most noted Nate's simple room refreshing and design quick-tricks. Here are the highlights:
Small Spaces:
Quick-Trick #1: bring in multi-functional furniture.
A "hide-away" bed can convert to extra wall and living space.
A side table can also be a basket for blankets.
A coffee table can double as a wine rack. Add wheels for easy moving/relocating within space.
A strategically placed desk can easy fold out to accommodate dinner guests as a dining table.
Quick-Trick #2: Use regular sized furniture.
sofas-placing a large sofa in a small room does not "swallow up" the space, it actually gives more area for guests to lounge.
pictures/paintings/photos: a considerably sized painting helps the wall and room seem larger.
Nate further underlines this quick-trick by adding, "I don't like using small scale pieces in small spaces, cuz it reminds us that everything is small."
Refreshing any space:
Quick-Trick #3: For the price of a pair of good running shoes, you can buy the following to refresh any room:
pillows: buy seasonal or neutral colors to add a refreshing "pop" to your sofa or chair
rug: adds complementary colors, brings in a new texture, and even dresses up your floors
slip cover: this can transform that tired couch into a fresh new and updated sofa
window treatments: install neutral drapes or shades to easily integrate into your current color scheme. It also creates a sense of calm.
Quick-Trick #4: Hang blinds and drapes higher than window frame to create the illusion of higher ceilings and taller room.
Outdoor space:
Quick-Trick #5: Design your outdoor room like you would an indoor room utilizing like fabrics, colors, and decor items (i.e. lighting, plants, accessories).
Soil Alert!: If your backyard is mostly sloped, know that to level the grounds and/or to bring in water for irrigation, this can be very expensive. Be prepared to work this significant expense into your design and renovation budget.