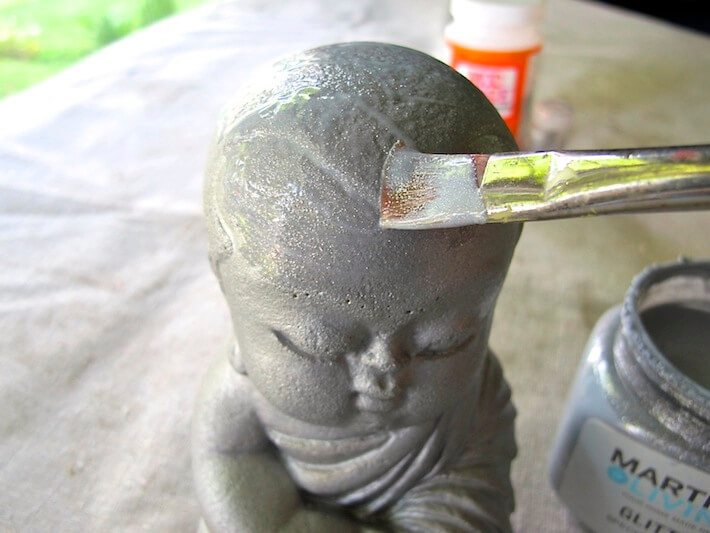 Some time ago, Matt was gifted a sandy colored Buddha statuette which left me pondering as to where to place it in our home. After some meditation…(see what I did there?), and lots of Pinterest scrolling, I knew this subtle decoration had the star potential of an American idol.
So, with just a simple brush, paint and glitter, I caused an effect that transformed this might-be-missed-on-the-shelf could-be into a sparkling standout home accessory. Nam myoho renge kyo.
Sparkling Buddha…here's what you'll need:
• figurine of your choice-look around your house and see what you can transform…it's so fun!
• medium to small paint brush(es)
• glitter paint (I used Martha Stewart's Living silver glitter paint, available at Home Depot)-here's where you can really add that POP! of color and surprise to a space!
• Mod Podge
• glitter
Note: I was going to Mod Podge on some cut out words of wisdom to the Buddha's back, but, as I worked with it, I didn't want to mess with its zen…glitter and all!
Here's what you do:
Step #1: Paint on your first layer of paint. I ended up painting a second layer to allow it to really saturate the color. Note: I chose to paint it silver…I'm thinking Buddha would appreciate the subtlety.
Step #2: Paint a layer of sparkling paint. Note: I also painted two layers for a more sparkly effect.
Step #3: Finish by applying Mod Podge, then sprinkling on some extra sparkle. Let dry. Done!
Sparkling Buddha!
All photography by Skaie Knox, HomeJelly