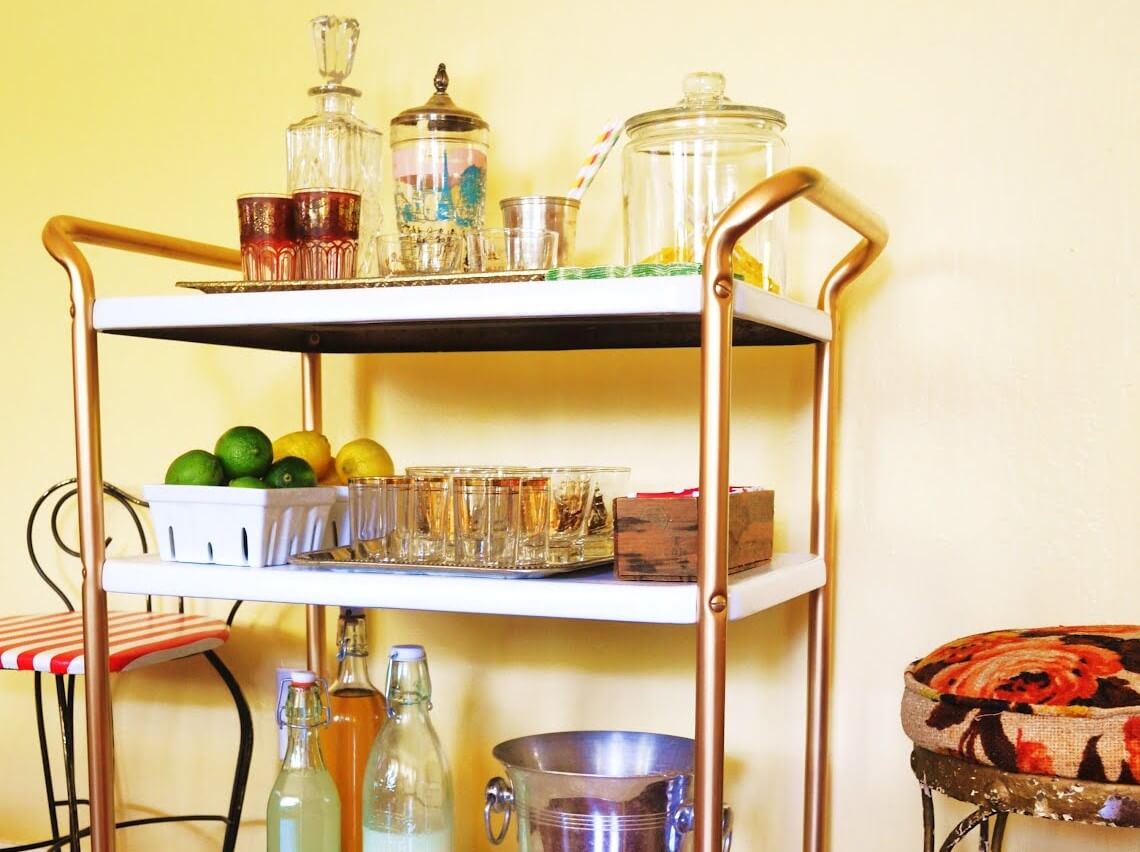 Why certain home decor items and furniture pieces "trend" is a mystery. Maybe there's some kind of a cosmic design collective at work. Take the vintage bar cart, currently the hot thing, available in many styles: two and three tiers, metal, glass, wood, with and without casters, etc. I found this mid century modern cart above on DiggersList for just $40, posted by the Littleton Habitat ReStore. With a little paint and the following how-to instructions, you can makeover your own in a jiffy, and have guests toasting to your DIY prowess.
Monogrammed bar cart: I love the idea of personalizing a bar cart, especially when you can match the color scheme to your outdoor accessories, or just create something that expresses your personality. Here, a monogrammed "K" takes center stage, along with fun colors to set it off. The other tiers were left as is but can certainly receive embellishment if your heart desires. Visit Keller/Creative for the full makeover how-to.
Three toned bar cart: there are many uses for these mobile bar beauties. Here, blogger Lance Cardinal shows us how a three toned on three tiered bar cart is perfect as a plant display. The fun thing about this project is that you can chose from any color scheme you'd like (visit our recent blog on Design Seeds for inspiration!). It's all about the fun, so have at it! Visit Lance Cardinal for full makeover how-to.
Golden barred bar cart: now we're talking elegance! A simple gold paint detailing over the usual silver plated bars lifts its poshness to another tier and gives it the cool it deserves. Visit Mimi's Muneca for the makeover how-to.