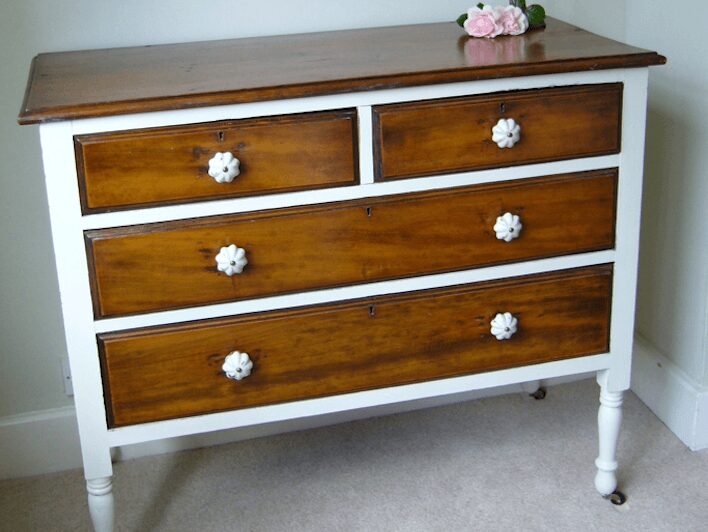 If you're a wood purist, this post is for you. Now, I'm definitely a gamer when it comes to refurbishing with paint, but sometimes, wood in its natural form is about as perfect as it can get. Take a look at these three "Before and Afters", where (besides the top photo) they don't necessarily let the woods "live and let live" (go completely au naturale), but all certainly give the timber the opportunity to sit center stage as the star of each piece. So, the next time you want to refurbish something simply by slapping some paint on it, think twice. You may be surprised at the natural beauty that's just asking for a little DIY love.
Keeping it natural chair: (top photo), how often have we seen a run-down chair like the one above? With just the right DIY attention and some fabulous fabric like South African designer, Heather Moore's, you can bring back to life something very special and with no paint swatches required.
Before:
After:
Keeping it natural chest of drawers: here, we are given a sort of "peekaboo" reminder of the beautiful grains in this refurbished and, as DIYer/blogger CJ of Juniper & Roses suggests "re-loved" chest of drawers. Though, 75% of this piece has been covered in paint, the white actually highlights the rich color of the wood. Bringing it home are the coordinating white ceramic knobs and mini casters, giving it an antique detailing that certainly catches this decor nerd's eye.
Before:
After:
Keeping it natural mail sorter: sometimes you discover a piece has great bones, but not-so-good wood (or none at all!). I had recently run into a cabinet that proved this to be true, but still found a way to sneak in a stripe or two of its original glory (stay tuned!). Creative writer, photographer and seemingly "Jackie of all trades" blogger, Natalie Wright of Natalme snagged this fabulous vintage metal mail sorter, and had the imaginative insight to add a piece of quality wood to stand in as the natural representative of this fun collector's cabinet.
What do you think about keeping it natural? Yay, or paint?