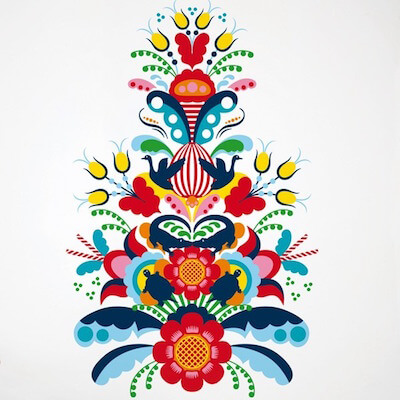 As far back as I can possibly remember, I've loved Dalas. Every holiday, we'd visit one of our aunts' houses, and one of the first things I'd look for was that quirky patterned horse.
As a little girl, I learned they symbolized family…sigh.
Historically, Dalas, (or Dalahäst in Swedish), were mostly used as toys for children. Eventually, they became Sweden's national symbol and an important item for barter.
See Also: Make a Flag of Wood to Show Off Your Heritage
What I absolutely LOVE about these wooden statuettes is that they were originally hand-carved out of scraps from furniture making.
Umm…okay! We're talking the most awesome example of reusing and repurposing! Bom!
So, when it came time to celebrate my new baby cousin's first birthday, I knew I wanted to start her off on the right foot (or, in this case, wheel!) and craft her her very first Dala horse. I, of course, had to reuse wood from my scrap bin to make it authentic. I then added a little something extra and functional: wheels!
Supplies:
• 3/4″ pine or plywood (or 1 1/2″ pine or plywood)
• Dala stencil (you can also google lots of different Dala designs)
• wood glue (I used Gorilla Glue)
• jigsaw or scroll saw (preferably a table jig or scroll saw for cleaner edges)
• drill w/bits
• sandpaper (medium coarse – P60 and fine – P120 for finishing)
• (4) wooden wheels (available at Michaels)
• (4) 1 3/8″ wood axle pegs (also available at Michaels)
• assorted paint colors
• small paint brushes
Instructions:
1. Print and cut out stencil, then trace onto your wood.
2. Cut out then sand the edges of your Dala. First use the medium coarse sandpaper, then the fine to finish nicely. You reeeeeeally want this wood to be smoooooooooth.
3. Transfer a paintable template onto the wood: (a) first darkly pencil over every line on the RIGHT side of the paper stencil, (b) flip it over and fit it perfectly onto your cut out Dala, then (c) darkly pencil again over every line on the BACK side of the paper stencil. The pencil on the front will now be transferred onto your wood.
4. Drill holes for the wood axle pegs.
TIP: Be sure to FIRST test the size of your drill holes on a piece of scrap wood. Drill, then try to insert an axle peg. It should fit snugly.
5. (If you're using two (2) 3/4″ pieces…) Glue two sides together. Be sure to allow the glue to dry, between 1 -3 hours before attaching the wheels.
6. Attach axle pegs and wheels. Insert the peg through your wheel, then squirt a dab of wood glue inside the drill hole. Gently hammer in the peg using a rubber mallet.
TIP: mark a line in pencil on your axel to show how deep to hammer in the peg.
7. Paint both sides of your Dala. Have fun and get STUPID!
I used this Rosemaling design as an inspiration for my pattern and color:
Du är klar! Grattis!
Do you have a decorative symbol that represents your heritage?
All photography by Skaie Knox, HomeJelly