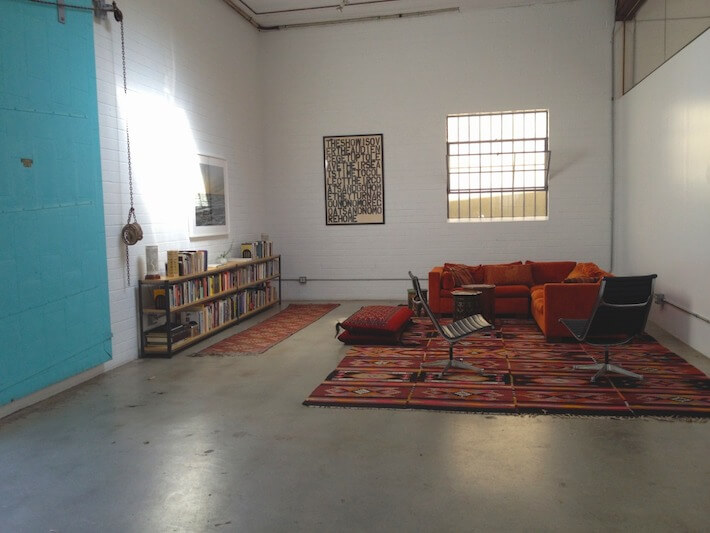 My brother-in-law, Johnnie is about to tie the knot with his long-time girlfriend, Alexis. In addition to being smart, creative and kind people, they are both quirky and colorful characters…a perfect family fit in my world!
So, it wasn't a surprise when I entered the heavy, wooden doors of the Elysian, their Los Angeles wedding space, to find a like-style facility that had fun written all over it. What I liked most was its bones: industrial meets CB2, with pops of bright orange, green, turquoise and lavender, sprinkled amongst rusted and worn metal frames, cable doors and polished cement floors.
In addition to its "bones", the lush and plentiful succulents garden and planters, outdoor sparkly lights, hipster lounge and built-in kitchen made this a really smart and move-in ready spot to say their "I dos". I thought I'd share these raw and undecorated images now, as in the next several weeks, I'll be posting some fun decor projects created just for Johnnie and Lexi…unconventionally vibrant!
I love how the happy succulents nested in bright pots greet guests as they enter the gate.
Elysian's garden walkway weaves its way through succulents, plants and trees. Colorful chairs offer visitors a chance to sit awhile and enjoy the surroundings.
Colorfully framed tables and benches double as dining space and ceremony seating…smart and fun!
This modern room divider adds architectural interest, separates the spaces inside the expansive, open room, and is an art installation all in one.
This unexpected turquoise fire door gives this room industrial-modern swagger and is also a great backdrop for photos.
This hip(ster) lounge is perfect for chill'n and ill'n during the festivities. I believe this is the site for the Xbox gaming fun.
The framed outdoor space makes for a very unique and memorable wedding atmosphere where stars become part of the lighting. Can't wait to get my DIY hands on this room! Stay tuned!
What types of decorations would you add to this space?
All photography, except where indicated, by Skaie Knox, HomeJelly