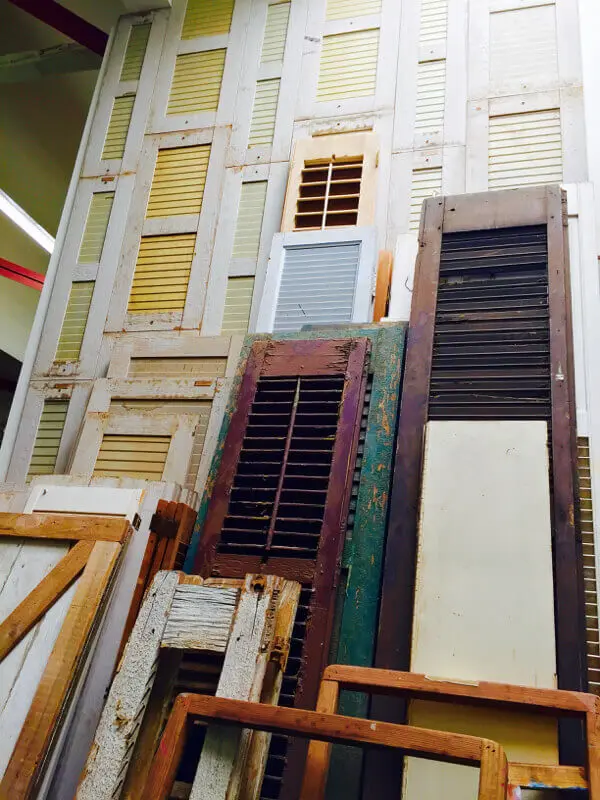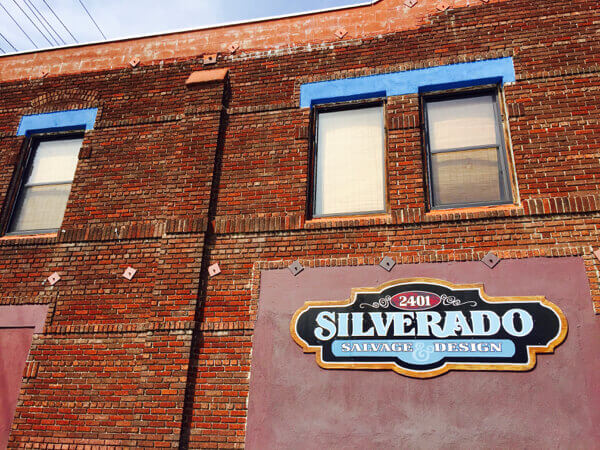 I was almost jumping outta my skin when I heard there was a "new" architectural salvage game in town, Silverado Salvage and Design. Five minutes from Downtown LA, to be exact. And, though this location has opened relatively recently, what's inside is all about aged, weathered, patinated awesomeness.
That very next Saturday, the Energizer Bunny (Matt, my high-energy hubby) and I hopped onto the 105 freeway, then onto the 110 East, and finally off we went though the veinous surface streets of inland Los Angeles proper.
Thanks to waze, we were there in no time.
It was like I had arrived at Disneyland!
Yep. I'm a helpless decor nerd.
With a brick facade to greet us, we knew we were in for a treat. Up the stairs we went and what did we see first? The "Buck Box"!!! Who doesn't love a bargain bin? But, there wasn't just one…there were several! Here's just a sample:
Next, we entered what looked to be their show room.
Show off room, more like it! Wow.
What sets this architectural salvage shop apart from others is their in-house design team who creates custom furniture pieces, installations, and just about anything your decor heart desires. Using their 100+ old reclaimed lumber and other salvage materials, they also re-fabricate rustic farm tables, console tables, potting benches, planters and bars.
The anticipation of entering the barn wood area had me all aflutter. But, just as quickly as my eyes darted from one leaning group of timber to another, along came warehouse manager, Maxx Kanzler. "So, how may I help you folks today?"
See Also: 100+ Year Old Barn Wood Repurposed Into a New Garden Shed
From the very beginning, we noted that not only was this a super clean, well-organized warehouse of yummy salvaged and reclaimed goods, the people were just as impressive. Helpful, extremely knowledgable, creative-minded, and…passionate!
So, as excited as I was to tag the items I was sure to take home with me, their enthusiasm for what I was planning and hoping to do with their materials encouraged me to believe I could DIY my ass off!
Here's just a peek at some of the head-turning items they offer…
Towards the end of our visit, one of the owners, Jeff Mack, approached Matt and me and welcomed us to his shop. "We're happy you stopped in. If you need any help with anything, just let us know." He went on to tell us how he went from an antiques enthusiast to a full-blown architectural salvage aficionado.
Passion + a plan = a dream comes true!
During this first visit, I was on the hunt for a specific size wood, for an upcoming project, and was guided to several varieties of trees, barn and building woods. Everyone who assisted us had on a smile, which made my day at "Disneyland" so pleasant and enjoyable.
Yep. I found what I needed. Stay tuned for the how-to!
Ah, yeah…we'll be heading back to Silverado Salvage & Design soon. And, if you live or are visiting the Los Angeles area, stop in and wonder at the fantastic array of salvaged history, the custom designed pieces and a design and warehouse staff that'll serve it all with a smile.
All photography by Skaie Knox, HomeJelly