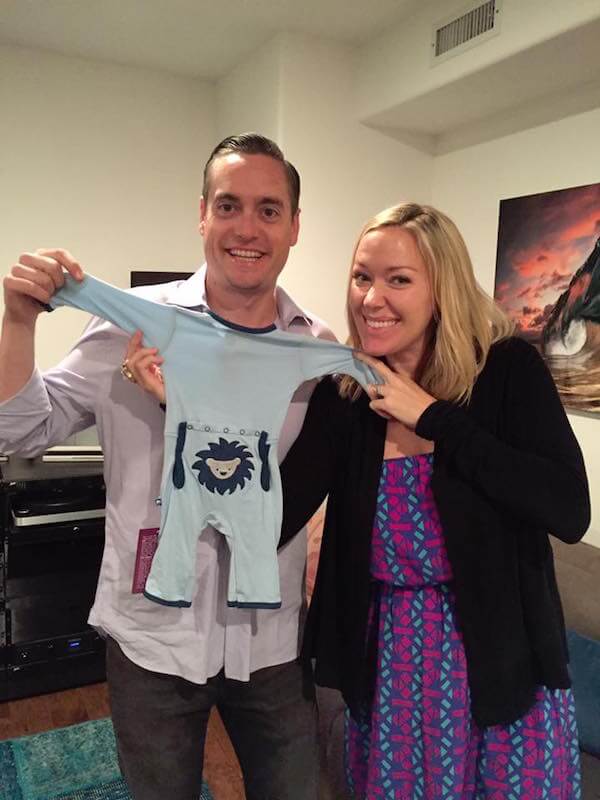 When my cousin, Kelly, and cousin-in-law, Veronica, announced they were expecting their first baby, I have to admit…I was almost more excited about how they were going to decorate baby Landon's nursery.
Yeah, yeah, almost.
So, why the fervent anticipation?
Well, if there's anybody who missed their calling, it's these two. Kelly and Veronica are natural born designers whose pinnable home gives me goosebumps every time I visit.
Maybe I'll start a board just for them…hmm.
Their grasp of pairing patterns and textures with such warmth and ease is totally inspiring. They also share my love of humor and whimsy – every room has just the right dash of it.
It looks like Landon loves his room, too. If you could scroll down quietly, we'll all have a look-see together.
Shhh…the baby's sleeping.
I just adore this gallery of animal photos by Amy Hamilton. It's such a simple and not-that-expensive way to fill a wall in such a sweet, yet sophisticated way. The hanging pom-pom garland in the corner is a fun and unexpected pop of color and texture.
And who knew a lemon-yellow pouf would pair so deliciously with gold wallpaper…but it does!
By the way…
(cue: slow clap)
how brilliant of these two to use a low dresser as a changing table?!? When Landon no longer needs one, he's got a fabulously stylish piece of furniture that will last until his teen years. Booya!
Talk about whimsy! These washable, stuffed mushroom rattles (that actually rattle!) are just too darn cute! Add a couple of posh brass frames, and balance is maintained…this room's design integrity is spot-on and on-trend.
Today, you can find all kinds of vintage-style furniture, like this super cute antique-blue bookcase. The detailed wood turned spindles give it such sweet personality – a perfect home for stuffed animals and books galore (like my book, Big Bug Lunch!) – I spied this brass fawn head bookend keeping them all neat and tidy. Love!
A special way to celebrate your child's heritage is to add child-friendly tchotchkes like this stuffed Swedish Dala horse.
(I'm so ordering one of these.)
I just so appreciate it when small spaces are elegantly employed. Here, Kelly and Veronica stylishly feature a family of brass geese, which also gives a loving nod to family.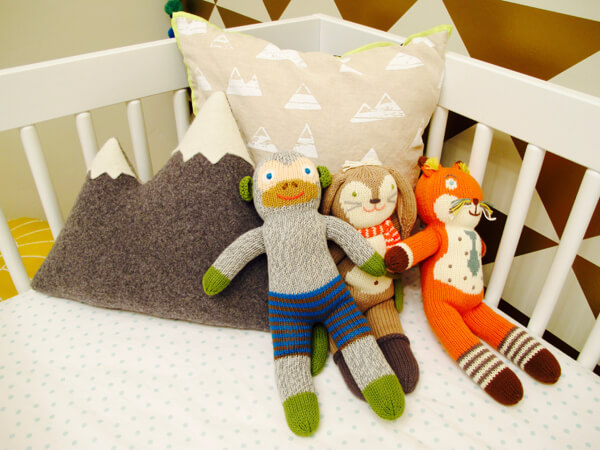 Hey! Landon's up from his nappy time!
Landon's feature wall was created with removable adhesive wall patterns – and quite the labor of love (eh, hem). It makes quite the mod statement against his 3-in-1 convertible crib and can easily be changed out for something new as he grows.
This is a perfect illustration for it such a good idea to chose simple and neutral colored furniture for a nursery (or any room for that matter!). Allow items like appliqués, pillows, stuffed animals, rugs and linens (even baby pads) to sing and shout colors, textures and patterns – they're much easier and less expensive to switch out when the mood comes over you (or your munchkin!).
I'd like to thank Veronica, Kelly and Landon Sullivan for allowing my readers into their home. You both inspire me, and I'm sure you'll inspire many others now. I'm so happy we're family.
Now, then…when can I expect my next cousin?
BOOM!
Soon-to-be Daddy and Mommy, Chris and Meghan Simpson (Kelly's sister, my cousin) just announced their soon-to-be baby "Simpo"! Congrats!
By the way…I know a couple of designers you kids may want to use.
All photography (except last photo) by Skaie Knox, HomeJelly
This is NOT a sponsored post and I did not receive any compensation or affiliate monies from these shops. I just LOVE supporting great design and decor!