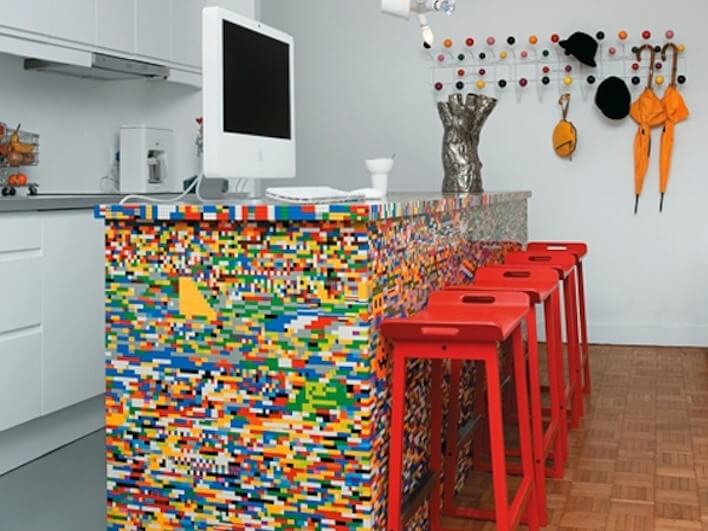 Close your eyes and image you're holding a pile of Legos
in your hands. Now imagine what you'd make with those pieces. Did you think of an animal, a robot, or maybe a vehicle of some sort? Whatever the idea, it would have been fun to make, right?. So, how stoked are we to see the following ideas where even grown-ups can once again play with these snappable pieces of joy! What's even more exciting, is that these pocket-sized plastic bricks really stack up when comes to adding hip, colorful design to our home decor. With the likes of 2,350 different shapes and 52 colors to choose from, an endless combination of configurations can be created using Legos. The limits of possibility lie only in your imagination, time and ability (speaking for myself, these bits and pieces always had me scratching my head as a kid…I made a really good pyramid once, though!). I hope these ideas inspire you to think outside the "brick" when it comes to your next lamp or even kitchen island surface, and to get in touch with the kid in you again. Me? I'm still one of them.
Lego desk lamp (top photo): as seen on HGTV's "Home By Novogratz", this architecturally inspired Lego lamp would style up any room with its bright red and graphic, optical-illusional design.
Lego kitchen island: Parisian designers, Simon Pillard and Philippe Rosetti, interlocked 20,000 Legos, completely covering their wood block kitchen island. They were apparently inspired by their apartment's relaxed vibe where they were able to express "emotional release". Snap.
Lego napkin & utensil holder: assembled in minutes, these clever and colorful holders are perfect for parties and/or to add a fun pop of color to your table or kitchen counter.
Lego block shelf: fun, entertaining and artistic is what describes the owner of this space…oh, yeah, and the Lego shelf, too.
Lego-like wall radiator: these giant Legos are really radiators that contain either a battery powered or electrical heating element that offers a fun and unique way to warm your spaces. They also come in a variety of colors and sizes to fit your home's decor.
Update: Wanna see how many Legos it would take to build yourself a house? Try out this "Lego My House" calculator to see!
What would you like to make out of Legos for your home?
Click here
to nab a box of Legos on the cheap to get started!