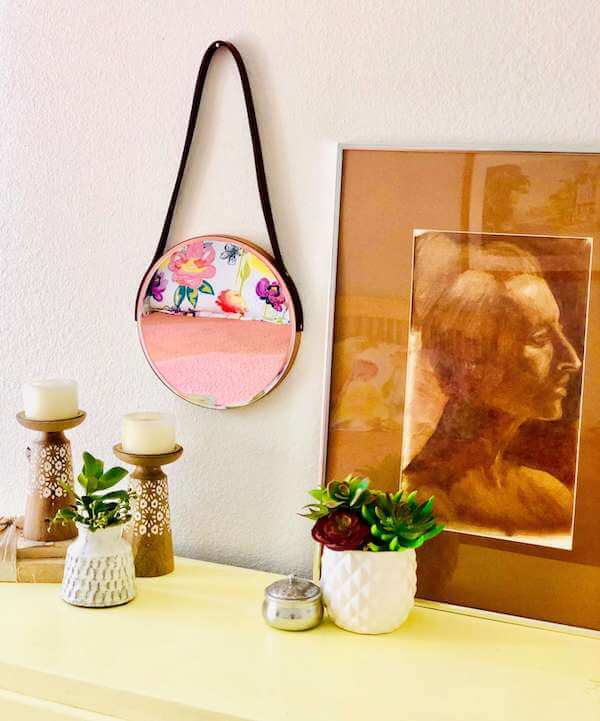 Scandinavian design is timeless and, at least in my household, often regarded as the fairest in the land. Clean, crisp lines, natural materials and a style sensibility that is all things calm and welcoming make these attributes the inspiration for today's home decor DIY project.
With just a few easily begotten goods and supplies (and just one power tool!), you'll have this project done in just about an hour or so. The result is a decorative accent with simple, functional elegance perfect for adorning any wall as a solo piece or alongside a collection of artwork or photographs.
Talk about a mirror, mirror!
Supplies:
• ¾" x 10" wooden circle clock plaque
• P240 Sandpaper + sanding block
• ½" wood screws (gold or copper color)
• Straight edge
• 3.5mm thick, ¾" wide, 34" long leather strapping
• Phillips screwdriver and drill + 5/64 bit
• Optional: crafting turntable
Instructions:
Click here for FULL how-to instructions, along with additional tips in our article on today's sponsor's blog: Universal Furniture's Explore Home.
Meanwhile…
WATCH OUR LEATHER STRAP HANGING MIRROR VIDEO TUTORIAL:
This post is sponsored by

We were paid to create this video and post by today's sponsor. We have also included affiliate links to the tools and supplies used in this project. The compensation we receive from affiliate sales helps fund our site to provide free how-to projects for y'all. Our personal opinions

are completely our own based on our experiences…we wouldn't have it any other way!