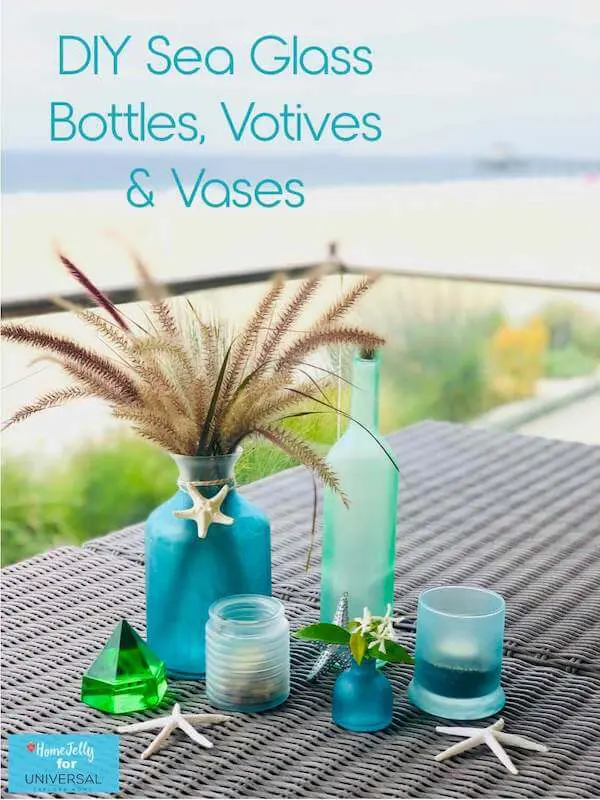 This is a sponsored post and contains affiliate links.
Sea glass is such a mystical element of the sea and can be found in a vast array of coastal colors – aqua blue, seafoam green, clear and frosty white (let's just pretend "beer-bottle brown" doesn't exist, shall we?). Ironically, this ocean gem is initially a man-made source, but when trashed into the ocean (or when there are ship wrecks), the tidal waters and waves tumble bottles, jars and other glass containers against the sand, breaking them into little soft-edged pieces of heaven.
Today's simple sea glass-inspired craft project shows you how to DIY recycled, found or store-bought glass items into decorative sea glass bottles, votives and vases…oh my! You'll capture both the wabi-sabi-ness of naturally distressed glass as well as the beautiful colors of the coast. Add sand, pebbles, candles and/or greenery to bring an air of the ocean to your home's decor.
If you're looking to infuse larger pieces of coastal style furniture into your interior spaces, check out today's sponsor, Universal Furniture's Escape-Coastal Living Home collection – natural woods and materials are blended with breezy-feeling textiles and colors. Now, on to crafting!
Supplies:
uniquely shaped glass bottles, votives and vases*
• dish soap (i.e. Dawn)
Instructions:
Click here for FULL how-to instructions, along with additional tips in our article on today's sponsor's blog: Universal Furniture's Explore Home.
Meanwhile…
WATCH OUR DECORATIVE SEA GLASS BOTTLES, VOTIVES AND VASES VIDEO TUTORIAL:
Pin It!
If you love this idea and want to share or save for later…give it a good ol' pin! You can also CLICK on the photo below to visit our Pinterest "Crafty Crafts" board.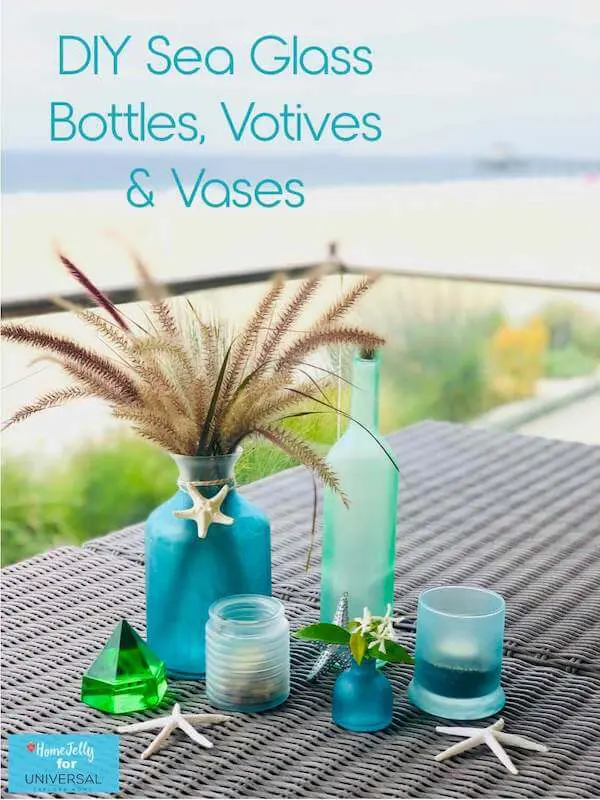 *To be ecologically mindful, opt for purchasing cruelty-free starfish and shells, for decorations. They look fantastic and allow sea creatures to remain in their natural habitats.
This post is sponsored by

We were paid to create this video and post by today's sponsor. We have also included affiliate links to the tools and supplies used in this project. The compensation we receive from affiliate sales helps fund our site to provide free how-to projects for y'all. Our personal opinions

are completely our own based on our experiences…we wouldn't have it any other way!