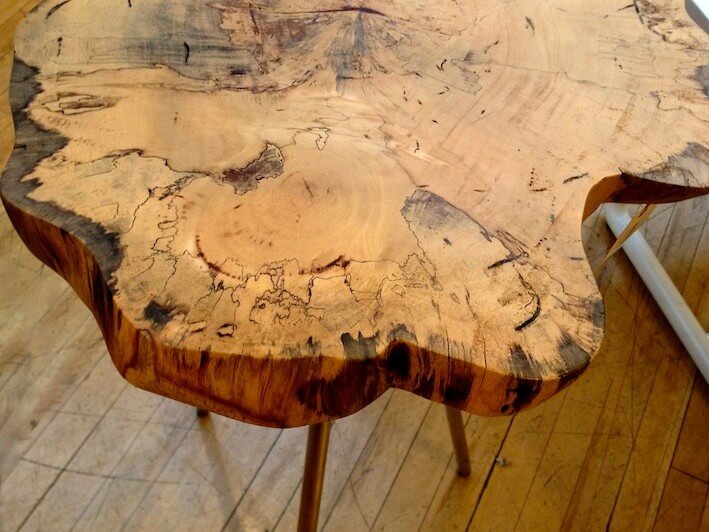 This post contains affiliate links.
Besides prayer, meditation and a really good snuggle session with my dog, Klunkers, nature helps calm me. Exquisite interior designer, Barbara Barry seemed to be speaking only to me this past week at the Design Bloggers Conference in Universal City, when she posed the idea of finding beauty in anything (including the after party wine spills and messy dishes of a once-elegantly set table!).
Interior decorating can be daunting for some, but it's hard to go wrong when Mother Nature is invited to stay a while. On a recent visit to design mecca, H.D. Buttercup in Los Angeles, I was struck by the tranquil power of trees in furniture. I, mean, in and as furniture. The following tree stumps au naturale tell their own stories of decades, and quite possibly, centuries of existence on the planet, revealing beautiful textures, colors and patterns to calm the space you love.
Purposefully cross-cut and lovingly smoothed to perfection, this tree stump accent table is just waiting to beautify your home. If you're looking for something a little simpler, this cute cross-cut accent table will do the trick, too!
I did a double-take at these silvery stumps, painted to fit into any mod or cool eclectic pad. Check out shelterness.com's cool ways you can use these tree stumps in your interior. I also found this silver painted tree trunk table and gold painted tree trunk side table for purchase.
By proof of this hallowed out stump art piece, we can definitely see that Mother Nature is a mad sculptor.
Resin has swallowed a tree stump and salvaged wood to then showcase their au naturel magnificence by way of a very heavy side table and potentially unmovable dining table.
When you get down to the root of things, like the many of this sculptural arbor, there's no denying its artistic truth.
Very cool in its design, (well, maybe not for those of us who would have actually taken the time to count its rings), this hollowed tree stump table is definitely a show stopper.
You could have fooled me! Petrified wood side tables mimic the characteristics of marble. Yum.
If you're looking to integrate trees into your decor, visit "Re-Gifting our Recycled Christmas Tree" for some doable ideas and how-tos.
So…when decorating your interior…where would you place au naturel pieces of furniture?
All photography by Skaie Knox, HomeJelly