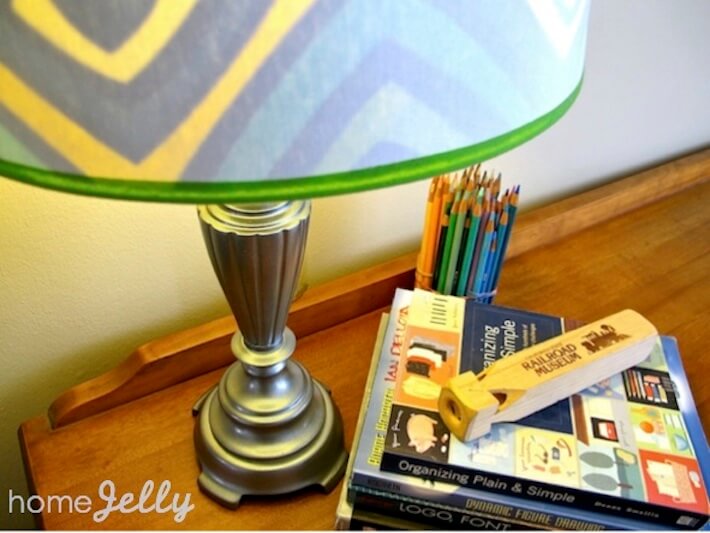 My brother, Ian came to me a while ago with outdated brass base lamp in hand, hoping I might be able to transform it into something he'd be happy to place in his house. "No problem!" After a crazy few weeks (or was it months?…oops!), I finally got around to making it happen. When all was said and done, I realized this brass make-over was as easy as 1-2-3! It was fun to see the "after" and how fab my "peek-a-boo" lampshade looked perched above his newly silver base as well. What do you think? Hopefully, after today's how-to, you'll look at brass fixtures in a whole new light (puuugh), and visualize something that can be chic and brilliant in a space of your own.
Supplies:
• tin foil
• painter's tape
• tarp and/or newspaper
• Rust-Oleum Painter's Touch Multi-Purpose Spray Paint, White Primer
• Rust-Oleum Spray Paint, Titanium Silver Metallic
Instructions:
Step #1: wipe down your brass fixture, then cover the electrical housing with tin foil and wrap the electrical cord with painter's tape.
Step #2: rotating around your lamp base, spray using the primer. Let dry approx. one hour. Tip: to avoid dripping, keep moving and rotating around the base and spray from about 8" to 12″ away.
Step 3: Spray paint over the primer and move around the base like you did in step 2. Be sure to cover all surfaces. Allow to cure over night, then you're done! Easy as 1-2-3!
You're done!
Your lamp base has gone from brass to "BRILL" in 3 easy steps!
I hope you go for it and transform a brass lamp you find at the next garage sale, flea market, or on DiggersList! If you'd like to top it with one of my "peek-a-boo" lampshades (we've only got 2 left!), visit our HomeJelly Shop to purchase one today!
What color would you paint your brass lamp base?
All photography by Skaie Knox, HomeJelly
This post contains affiliate links.