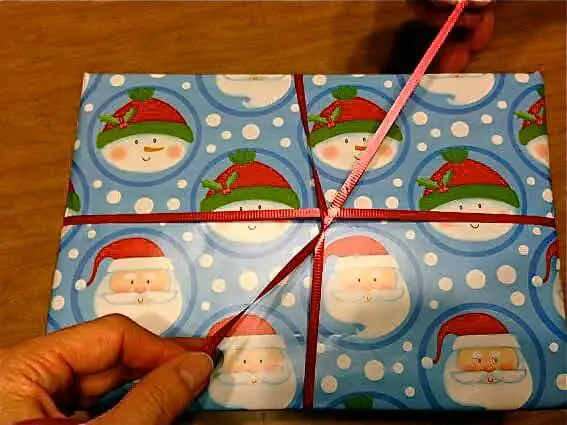 Okay, so this DIY quick-tip might not change the world, but it just might change your little piece of it. Especially, during holidays or birthdays where you're holed up in your bedroom, trying to keep kids and spouses at bay. More often than not, we're alone trying to finish our gift wrapping without that all important extra finger to help us properly tie a tight and tidy bow knot.
As I was finishing wrapping the last of my presents, I wishful-thinkingly asked my mom if she had heard of some way or product that would make tying knots possible for one person. "Here, let me show you a trick I figured out recently."
Yeah, no big deal – she had single-handedly come up with the most simplest of solutions! As she proceeded to walk me through the steps, I watched with total wonder (not unlike when I was five and learning how to tie my shoe). The result? This technique has changed my life! Well, at least a beautiful tiny piece of it.
How-To Tie A Bow Knot All By Yourself
Step #1: Begin by wrapping your ribbon over one side and back up the other. In other words, create a typical tied package.
Step #2: Make a regular singular tie. Like how you'd start to tie your shoe.
Step #3: Before tying your knot, slip one side of your ribbon under the first wrapped ribbon (as shown).
Step #4: Now, finish tying a regular knot. Don't worry about keeping on the pressure…no need!
Step #5: Tighten under-wrapped ribbon. It should smoothly finish in the tightest knot w/o any need to hold it with a finger!
Step #6: Finish with any embellishment you'd like for a beautifully wrapped package! Note: you now have permission to brag about how awesomely you tied your ribbon knot, all by yourself! Boom!
Do you have any tips on how to tie a bow w/o that extra helping finger?
All photography by Skaie Knox, HomeJelly