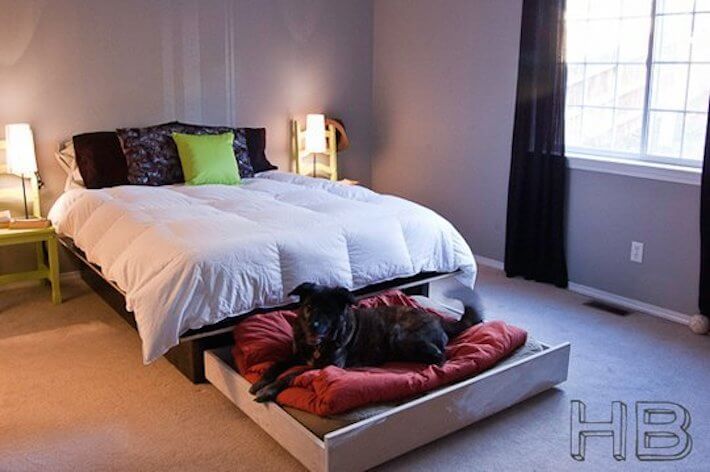 When it comes to finding the right pooch products, the task can be quite daunting. You never know if you're barking up the right tree (eh-hem) when it comes to quality. Well, today, we've presented only 4-5 star items along with three how-to projects to insure that your pooch will be properly pampered, and with all the quality he or she deserves. You'll definitely receive a lick of approval!
Pooch Gate: sometimes it's important to keep our pooches secured and away from certain areas of the home – like during parties, with visiting elderly relatives or friends, or when we're not home. Baby gates might not do the trick strength-wise, AND they're not the most stylish of decor. Click in and visit the folks at yellow brick home where they provide fantastic how-to instructions and photos to making your very own stylish pooch gate!
Contemporary geometric poochhouse: the weekend after you finish your pooch gate (see above), you'll most likely want to take your doggie decor to the next level and create this ever-so-modern, geometric poochhouse! Stop by Adorable Home for his very specific step-by-step instructions on how to construct this very cute and contemporary contraption…woof-yeah!
ComfortFlex Sport Pooch Harness: the reviews on this harness repeatedly laud its comport AND security for both you and your pooch. Ours is a senior K9 citizen and sometimes needs assistance with balance. The ComfortFlex really helps and doesn't put any unpleasant pressure on his trachea. Where to purchase: amazon.com; price: $30.50.
Under-the-bed pooch bed: when we saw this, we all said, "Well, duh!" What better way to put that wasted space under our beds to use than to DIY a comfy-cozy pooch bed for our best friend! Jump on over to house bella where this K9-loving couple has offered a fantastic way for you to make one at home.
iCPooch: here's a FABULOUS way to stay connected to your pooch when you're not home! Click here for the video, then learn more about the wonderfully creative, 14-year-old inventor! Price: $149, available on amazon.com.
This post contains affiliate links.