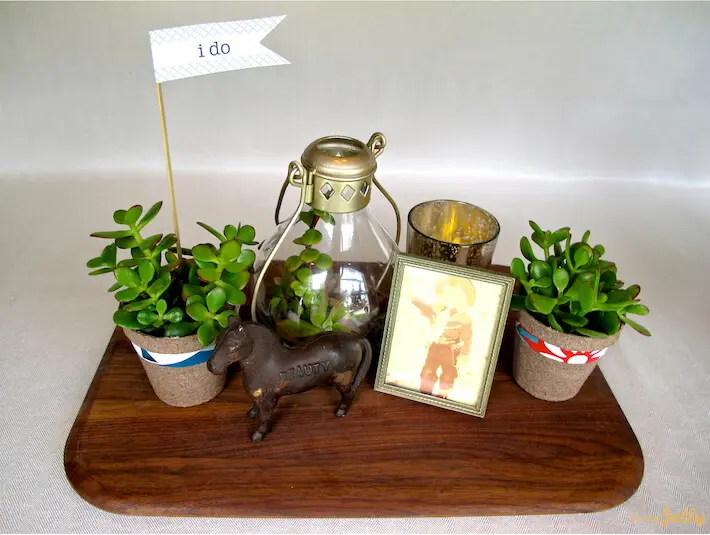 I never knew a can of spray paint could turn out something so elegant and lovely. When I was asked to help my brother-in-law, Johnnie, and my new sister-in-law, Alexis, decorate their wedding tables (see how I even used removable wallpaper!) , I got started right away collecting items from garage sales, flea markets and family hand-me-downs.
One such item was this red lantern above, (a bit scratched and sun-worn) that I found at a neighbor's garage sale. I bought it for .50 (oh, yeah). I knew, with just a little spray paint love, it could be transformed into a feature piece and terrarium for the plants of the wedding day: succulents.
In four three easy steps, I was able to make this lantern terrarium elegant enough for a wedding…certainly, you could make one to adorn your home space. How succulent is that!
Supplies:
• Hurricane lantern
• Primer – I used Rust-Oleum Flat White Primer
• Paint – I used Rust-Oleum Pure Gold Metallic Spray Paint
, but you can certainly use whatever color that floats your boat.
• Painter's tarp or newspaper
• Succulents – Note: interestingly enough, Home Depot has a pretty great selection of succulents with prices competitive to some whole sale nurseries. Also, visit your local farmer's or monthly antique flea markets…there are often vendors selling them REALLY cheap. We found these at the Long Beach Antique Market for about .80 each!

• Tealight Candle LED White
Instructions:
#1: Remove the glass hurricane from the lantern.
#2: Use Rust-Oleum flat white primer, then cover the lantern completely. Allow to dry for at least 1-2 hours.
#3: Carefully spray the lantern with selected paint color. Be sure to completely cover the primer. You may want to use a couple coats for full coverage. Don't forget the bottom in case you wish to hang it!
#4: Fill with succulents and place a tea candle inside…You're done!
Perfect for a wedding or home table!
What color would you paint your lantern terrarium?
All photography by Skaie Knox, HomeJelly
This post contains affiliate links.