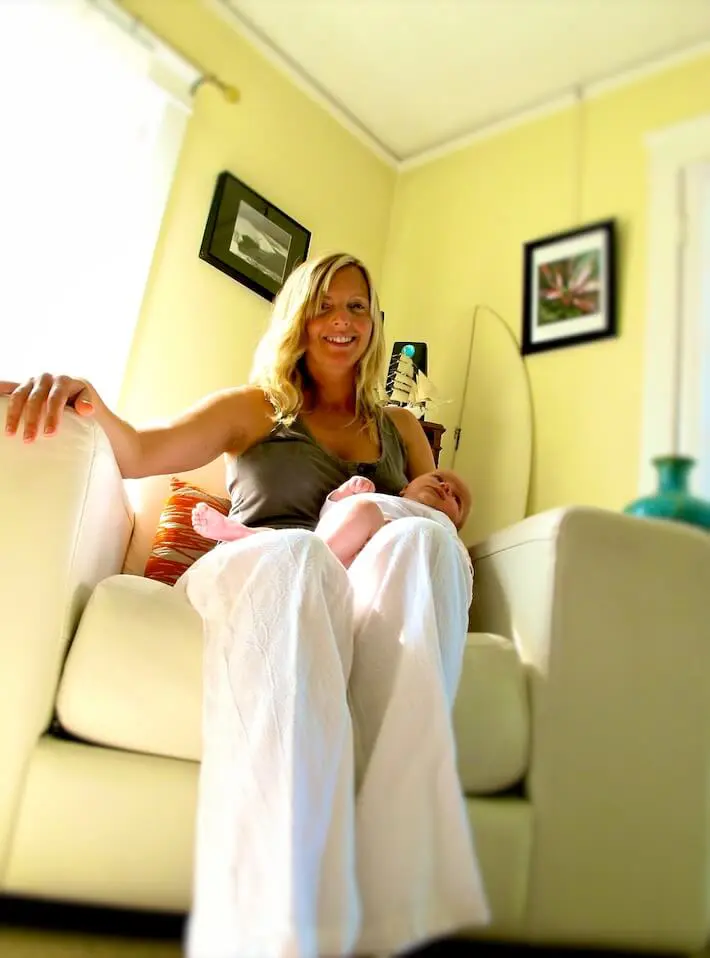 The first time I was invited over to have a look-see at a fellow Scandinavian friend's home in Long Beach, California, I was totally bowled over by its immaculate and barely lived-in condition. At one point during the guided tour, I found myself quickly glancing at my calendar to be sure we hadn't just crossed over some time continuum in the hallway.
Apparently, this 1920s era, bachelor fourplex had only one previous owner who clearly chose an equally caring and responsible successor who knew the value of property upkeep and preservation. As we strolled from room to room, I noticed architectural details like crisply painted crown moldings and baseboards, properly functioning built-in cabinets and dresser drawers, original hardware and vintage charm peeking out from every nook and cranny; it was a decor nerd's Pinterest board come to life!
I knew this was a HomeJelly post in the making and would have dashed home to grab my camera right then and there. Well, it took a few visits to grab my blogger's barings, so now, here's the "deco'd" out apartment for you all to enjoy.
Not only does this complex have curb appeal, its vintage personality greets visitors before even stepping one foot inside. This original mail slot resides neatly embedded under the window panes of a French styled front door.
Upon entering the front door, this private staircase hallway shows off its adorned walls perfectly suited for collected art, photography and the landing that houses found sculptures like tumbled sea glass and driftwood that resembles the head of a sea lion.
The walls aren't the only space for art. Surfboards are cleverly stored above and easily accessed, all the while adding an Escher-esque feel to this space as you look up…or is it down at the ceiling?
Glassware and curios have a comfortable home in these generous built-in cabinets. The glass knobs are original which gives us a preview of the rest of this home's intact history.
A spacious dining room invites guests to stay a while. Antiques like Andrea's family heirloom buffet and a Tiffany-styled light fixture keep this reclaimed wood table company for company to admire.
Did I mention this was a bachelor's apartment? Yes, the kitchen is small but it's also sweet. With the right pieces of furniture like a collapsible table for added prep space, a pot rack that keeps pans out of the way, and a bookcase with storage-friendly baskets, this is a perfectly sized kitchen for any young family.
The bathroom is the only room in this apartment that lets the cat out of the bag that we're indeed still in the 21st century. Aside from the vessel bowl, updated faucet and new-ish marble countertop, the original hexagon tile floors, corner and in-wall cabinetry and a bathtub so large I almost need a pool ladder to climb inside, all smack of deco-worthy decor.
Talk about outdoor space…this expansive, common garden area was conscientiously designed with a hideaway sitting nook and several other areas to entertain guests underneath beautiful old-growth trees and landscaping that sets a relaxing mood and atmosphere.
The long hallway offers more gallery wall space as well as this charming built-in dresser drawer, efficiently maximizing on storage and visual square footage.
Before entering the bedroom, I can't help but take a peek through the door's original keyhole. Andrea and her should-be-pro surfer husband, Cliff reveal their personalities by way of the cheerful color pallet of the walls, bed coverings and art. This mid-century modern mahogany dresser, a local antique store find, lands itself alongside and gets on quite well with the many earlier era architectural details in this home.
I discover with a bit of head scratching, windows in both the main walk-in closet and private dressing room. Apparently, back in the day, people did not own lots of clothing and often wore the same outfit several times before washing them. The fresh air kept mold, mildew and, to the best of nature's ability, unwanted aromas at bay.
If this flat couldn't be more adorable, the Juliet balcony with art deco detailing and three French doors pretty much puts it over the top. The original crystal glassed door knobs and cut-in keyholes act more like jewelry to this gem of a home.
Our tour eventually ends with a glass of pinot grigio and a sit at this mod nod to mid century furniture. A last detail is pointed out: every piece of artwork is hung via string and hooks perched upon picture rails that act as molding just about an inch from the ceiling.
HomeJelly thanks the White-Kjoss family for letting us into their home.
Photography by Skaie Knox, HomeJelly.com