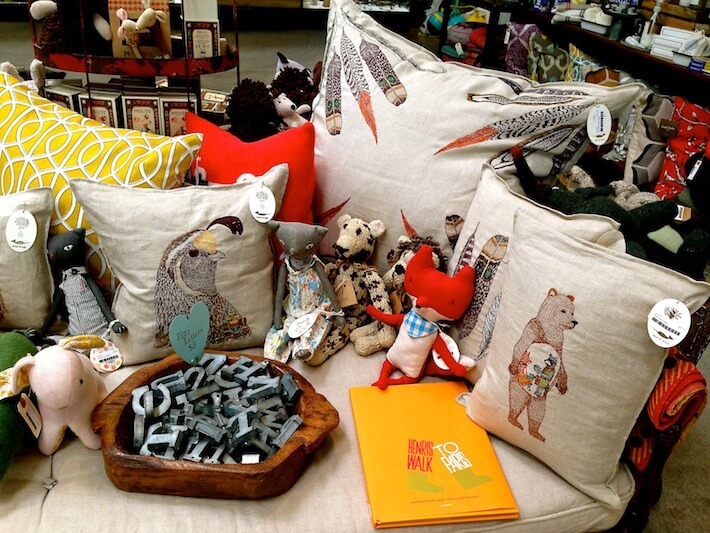 On a road trip this past summer, I stumbled into one of those "mom and pop" stores you hope to find when you're on a road trip. You know the kind, right? It was nestled between two of North Portland's most recent, gentrified and hipster eateries, which kinda made it stick out like a pink rose.
As I walked through the glass door of ink & peat, I knew this was my kind of place. Though the floral shop section was located indoors, it reminded me of what it was like walking along the flower district of New York; there were the most unique and interesting types of flora. Any bouquet you gifted or arranged in your home would have visitors thinking you were the most in the know about floral decor.
I love learning about the back story of these types of shops. Interestingly, the owner was a former textile designer who decided to jump tracks and follow her passion for home and floral decor. You really get a sense of her wide knowledge of fabrics, colors and eclectic design through the types of exotic and wild flowers, interesting and hand-made decor, and even quirky stationary she carries. This place is just so…honest. What's not to love about that?
But, what really melted my butter was this display:
I stopped in my tracks when I saw their organic and high quality pillows by Coral & Tusk, along with the cutest of stuffed animals and zink letters. But the C&T designs, fabrics and stitch detailing left me with the warm fuzzies – one in particular was this "Hungry Bear" pillow below…uh, love!
I knew I had to share this vignette with you along with a way to get your hands on these fabulous items. ink & peat also had the most delicious bedding, real soft wool with attention-to-detail patterns. You can browse and buy either shop online or, if you're in or near Portland, stop in and tell ink & peat Skaie says hello!
If you'd like to see some other wonderful decor and repurposing renovations I discovered on this road trip, check out the REX Project and the Gorgeous Garden posts.
All photography (except otherwise indicated) by Skaie Knox, HomeJelly