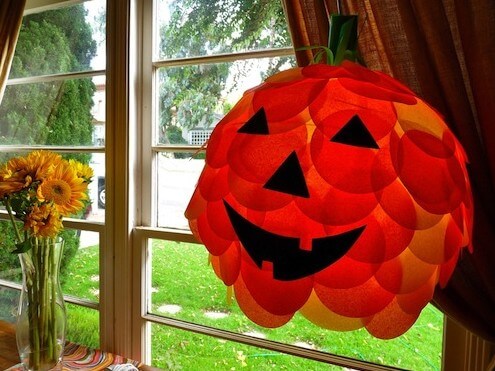 Ah, the holidays have crept up on us once again, and it's that time of year to dig out and dust off our storage bins filled with frighteningly fun frippery. If you find those decorations are a bit on the shaggy side, you might want to create something new and fabulous like these dramatic lanterns and lamp (a three part series, starting with a glowing pumpkin). In just an afternoon, you can be greeting trick or treaters with lighted style and hand-made, haunting pizazz.
What you'll need:
white, paper lantern
scissors
double-stick tape
sticky-back black Foamies sheets
Optional: for googlie eyes…use ping-pong balls (not shown)
Here's what you do:
1. Insert cord kit and hang lantern low enough to be able to work around it.
2. Attach strip of sticky tape to the top of each circle. It takes approximately 14 circles to make it around the lantern, so pre-tape this many for speeder application.
3. Start at the bottom of the lantern and stick circles, slightly overlapping one next to the other, all the way around. Optional: you can use just orange circles or alternate with yellow. The effect with yellow is a more textured and layered, colorful finish.
4. Continue sticking, overlapping, and layering circles.
5. Trace out eyes, nose, and mouth (as if carving a pumpkin!) onto the Foamie sheet back, then cut and stick into desired place. Optional: using a toilet paper roll, cut long-wise to fit around cord, then tape green tissue paper to cover. Plop on top…done!