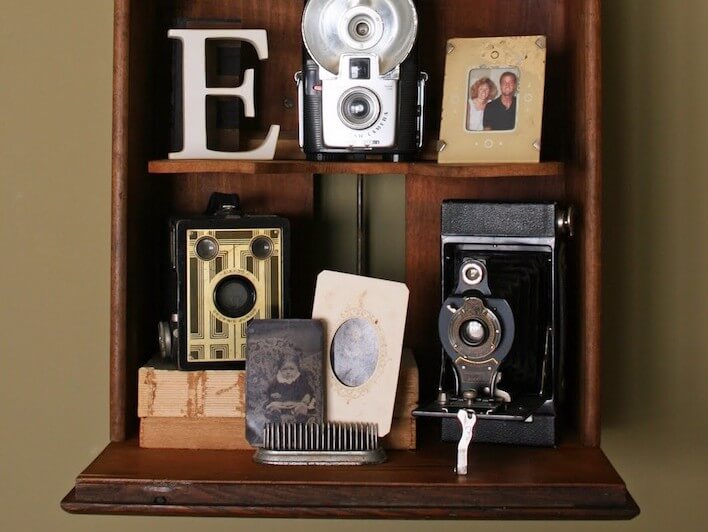 The world has changed – have you noticed? In a good way – surprised? I guess I'm an optimist underneath it all, and have come to realize that when we look at the sunny side of life, we often feel its warmth. Repurposing, to me, is an example of how we've positively evolved. It has revolutionized home decor and opened a new world of artistic expression as well as seeing our stuff in a totally new light. The following beautiful home furnishings are all remade from used home items that are now enjoying a second life…here comes the sun!
We've seen them stashed way back in the corner of a home office, "junk" room, or garage. Those small, old wooden filing cabinets that either don't open very well or they've become obsolete with so many of us going paperless. The photos above illustrate their second life potential – a nostalgic and useful shelf for keepsakes.
With so many books gathering dust at garage sales, .on 50 book racks, and in our own homes, there's no reason to open them up to beautiful possibilities like this gorgeous folded book pages wall decor piece. To learn how to make one (or more than one) of these literary creations check out Lisa Occhipinti's book The Repurposed Library: 33 Craft Projects That Give Old Books New Life
. $16.47, available at amazon.com.
I just bought a big bag of clear colored zip ties, mostly to keep my computer and music cables neat and tidy. I only used a handful of the 100 count available. After discovering this ombre styled zip ties shade, I guess I've got a new way to put the rest to good use!
Back in college, our band house was located in this Spanish style 1920s cottage. There were heating grates just like the ones above that would often get hot to the touch as the furnace blasted hot air through them. I was lucky to avoid accidental burns and actually thought they were pretty beautiful. They might be outdated in most homes now, but their use has been reinvented. I bet some of you wished hot air still blew through these enough to burn your bills.
We've definitely seen ceiling fans with lights, but how about a light fixture made out of a fan? Cleverly hand-crafted out of a vintage and bladeless fan and fashioned with Edison lights, this pendant lamp is cool in a whole other way.