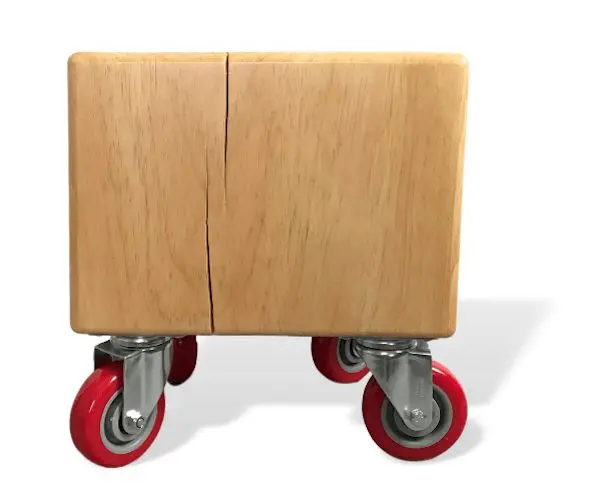 This is post contains affiliate links.
I'm so OVER stuff.
You know, stuff that clutters. Stuff that takes up space. Stuff that you bang your shin into in the middle of the night. Stuff you have to dust and move and shift when vacuuming all that dog hair…uuuggggh!
I digress.
Yep. This year, I plan to minimize. Ahh…just saying this makes my shoulders come down from my ears. I can breath.
Right?
So, when I was approached by Ken Holiday of Loma Living, a small team of craftspeople from Philadelphia specializing in minimalist home storage designs who, as they say, pour all their energy into the production of goods in small batches…well, I was intrigued.
I am daily approached by companies who pitch their wares (or should I say, "who cares"?), looking for me to try out, touch and feel, then promote STUFF they believe my readers "MUST have".
Pasha!
Enter, this beauty:
Over the past eight years of writing and educating myself on decor, design and product development, I've realized the value in simplicity – not only in form, but function.
Form:
This oversized piece of timber has been cut into a modern, minimalist piece of art. The timelessly on-trend steel hairpin legs are strong, durable and cool. I totally dig how each piece is unique, like Mother Nature intended. Styled or left beautifully naked, this table will be an instant decor family member you'll want to stay around a long while.
Function:
This beautifully hand-crafted Timber side table is a perfect piece to nestle up against an accent chair, next to a platform bed, used as additional seating, or even to place amongst your outdoor furniture to keep cocktails perfectly in reach as you sip a drink for sundowners.
Our dogs love it as a perch. (Who knew?)
This Timber side table also comes with wheels!
Additional DIGS:
Here are a few of my other favorite pieces from Loma Living. Please visit their website and amazon shop to purchase one or more of your own!
Loma Living provided HomeJelly with one of their products to touch, feel and try out before featuring their items in this post.

My personal opinions

are completely my own based on my experience. I wouldn't have it any other way!