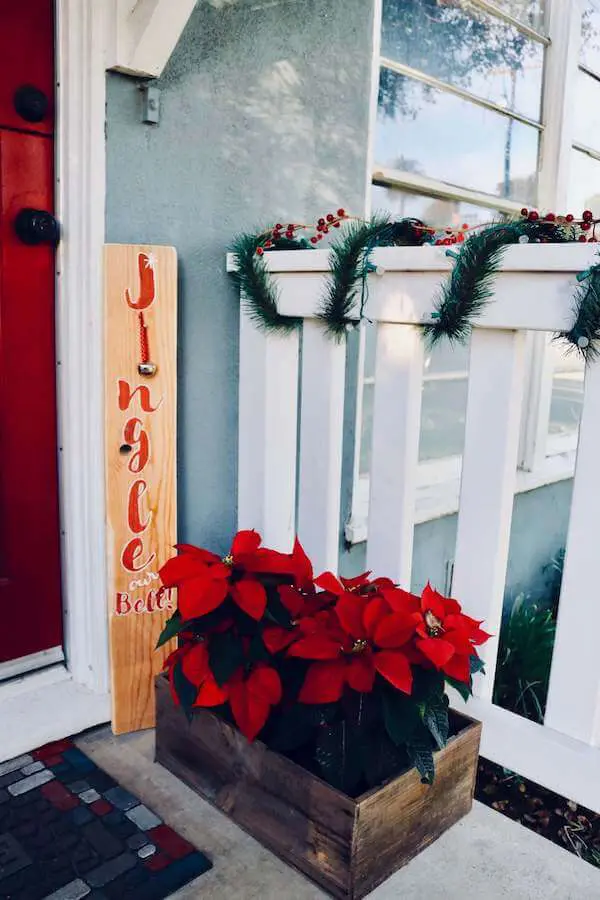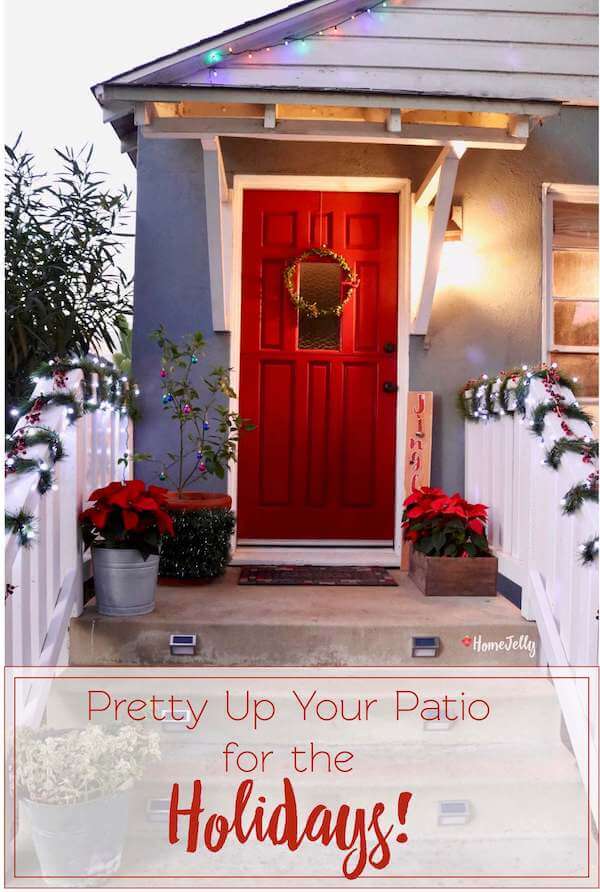 This is a sponsored post that contains affiliate links.
T'is the season to clad our curb appeal with all things happy and bright. But, what if last year's decorations (or the year before that) aren't looking so delightful?
No worries! For a deck-the-halls refresh (or would deck-the-deck be more appropriate?), today's post offers several tips and projects to pretty up your patio for the holidays using only a few store-bought items and stuff you probably already have around the house.
#1. Door Decor
Make your door jolly with a handmade wreath using cuttings from your garden (or a neighbor's). Tip: be sure to ask if you can "borrow" a few cuttings to keep the spirits bright!
• 12" or 16" embroidery hoop (available at Joann's Fabric or Michael's)
• Boxwood cuttings
• red beads from broken ornaments or faux berries
• small pine cones (dropped from pine trees and readily available this time of year)
• twine
• Optional: faux bird or forest animal
For FULL HOW-TO, visit my post on HomeRight.
#2. Wrap Your Railing
It's almost as if railings were designed to be wrapped with greenery, berries and lights! You can easily find these items (in faux) at an inexpensive cost this time of year. Oh, and an added bonus with faux decorative "fixings" is that you can reuse them again and again. Tip: be sure to store them individually in plastic ziploc bags or bins to keep them organized and neatly put away.
Supplies:
• faux greenery
• faux berries
• white lights
For FULL HOW-TO, visit my post on HomeRight.
#3. Deck out your Patio Deck
A. Trim your planters.
B. Add a handmade sign.
C. Add poinsettias to wooden boxes and tin pails.
For MORE fun ideas with FULL HOW-TOs, visit the complete post on HomeRight.
All photography by Skaie Knox/HomeJelly
This post was sponsored by
I've teamed up with HomeRight and am proud to be one of their paid brand ambassadors. I also received a HomeRight product sample to use in this post and have included affiliate links to the tools and supplies I used in this project. My personal opinions are completely my own based on my experience. I wouldn't have it any other way!