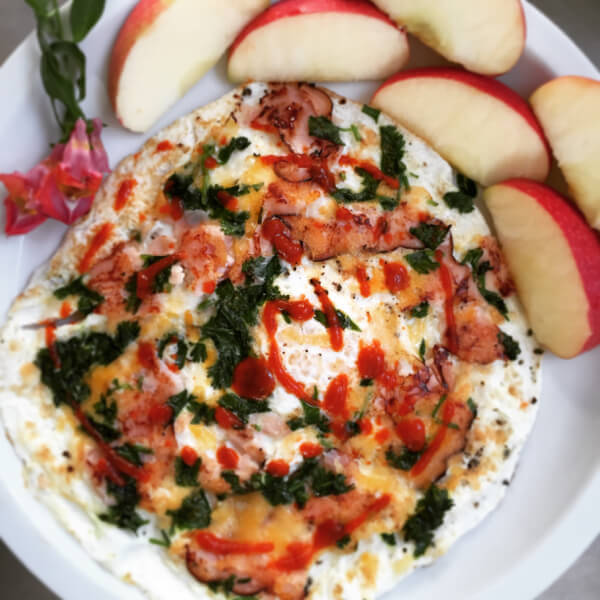 There are some mornings when I really need a get-me-going-so-I-can-conqure-the-world-pick-me-up. Something that can inspire me to say, "Here I come, world! I'm ready to make this an AWESOME day!"
Especially when you think you've just caught your husband's cold and you've got SO much to do.
Mmmhmm.
So, to stay positive and energized, I came up with a breakfast that looks just like confetti! Eggs confetti, that is!
The best part is that it's SO easy to make and is high in nutrients and low in calories. Yep. You'll be celebrating like it's 1999 in no time!
See also: Blue Berry Almond French Toast Bake That's so Good It'll Make You Weep
Ingredients:
• 1 egg
• 1/3 cup egg whites (Trader Joe's sells "Cage-Free 100% Liquid Egg Whites – so fluffy!)
• 1 slice of roasted turkey (cold-cuts section), cut up into small pieces
• 1/4 cup reduced fat grated 4-cheeses or any type of cheese you a-luv!
• several sprigs of cilantro
• drizzle of Sriracha (the nectar of the Gods!)
• salt and peppah to taste
Directions:
Take a non-stick skillet and heat to medium high. Spray with olive-oil, then add eggs – first add the whole egg, do not break the yoke! Then, add the egg whites. DO NOT FLIP! Continue lifting the edge of the eggs, then tip the pan to allow the runny parts to move onto the pan to cook. Once there is hardly any runny eggs, sprinkle eggs with GUSTO! your turkey, cheese, cilantro, salt and pepper.
Carefully flip your egg so that all the ingredients are now facing down onto the pan. Allow to cook for 45 seconds to 1 minute. Flip one more time, then slide onto a plate. Drizzle with a Pollock-like flair, the Sriracha sauce. Garnish with a 1/2 a sliced apple or orange and you've got yourself a ticker-tape parade!
Celebrate, good times! Come on!
Aaaaaaaand…I'm still a dork.
All photography by Skaie Knox, HomeJelly